Author's Notes: I've updated the original post to list the news agencies that reported on this as if their audiences should accept it as fact. I only selected from news agencies with a national reach or an ostensibly scientific mission – those that have the resources to know better and be more critical in reporting "emerging medical research." I also add a list of news agencies that got it right – they critically and skeptically appraised the claim in the larger context of markers of addition, study design, etc.
I have also edited my comment on blinding to indicate that it's unclear whether they used it, and the fact that it's not mentioned is a red flag.
I also added a comment on misuse of reasoning in drawing the conclusion about cocaine addition.
I know that some people object to my title – however, it's intentionally provocative to indicate that failing to consider rival causes can lead you down a potentially wrong path when drawing conclusions from data. Seriously – what if the rats just found the rice cakes disgusting and derived an inevitable and strong reward from a food source that wasn't disgusting?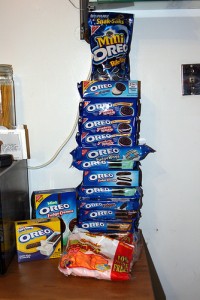 I saw this headline all over the place today – here is one representative example:
Oreos May Be As Addictive As Cocaine; That stuf is addictive [1]
Here is another one:
Addicted to Oreos? You truly might be. [2]
Wow! Is that really what this study found? Nope. The only thing these researchers proved is that given a choice between Oreo cookies and rice cakes, mice choose Oreo cookies. Is that really a surprise? Let's take a closer look.
Continue reading "New study finds that mice agree with humans – rice cakes taste like shit"