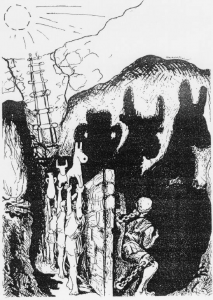 Plato's "Allegory of the Cave" could almost, taken at face value, be the plot of a movie in the "Saw" series [1]. Prisoners in a cave, born into chains and forced forever to face a single wall, know nothing of the reality of what lives behind them. A fire somewhere behind the prisoners cast shadows that play on the walls. Our poor prisoners try to make sense of the reality of the world behind them merely through interpreting these shadows, never able to turn as see the world as it truly is.
It's has the potential to be a terrible image, but softened a bit it can be a useful metaphor for thinking about what it means to use scientific inquiry to understand the reality of the cosmos. When we discover something using scientific inquiry and describe it mathematically, is that mathematical statement one approximating reality or truly describing reality as it is?
That question aside, Plato himself was not big into what we would now call "science" – in fact, he held many core beliefs that suppressed scientific thinking. In this post, another personal journey into "Reality in the Shadows," I reflect on the satisfaction of wresting this metaphor our of Plato's hands and giving it to a new generation. It is my hope that such a generation might only ever know the tools of scientific investigation for use in understanding the natural world. The world is filled with shadows, crying for explanation; I hope a new generation can appreciate how the tools of science can be used to make sense of those shadows in a reliable and reproducible way.
Continue reading "A View from the Shadows: The Allegory of the Cave"