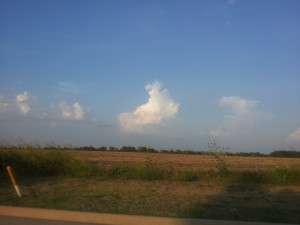 Texas is hot in the summer. While other parts of the U.S. have begun to see relief from the recent heat wave, Texas and the surrounding region have maintained high temperatures exceeding 100 degrees. Normally, at this time of year, I would be at CERN. However, due to the flooding of our house I've grounded myself here until we can sort out the repairs. That work begins soon, and is expected to take 2-3 weeks. Since both Jodi and I work, neither of us has the luxury of a stay-at-home spouse; we will be trading off who stays home and who goes into SMU for the next few weeks.
The result of my grounding is to experience the full power of a Texas summer. The county is in a Stage 1 water conservation level, where they are not yet enforcing conservation but recommend doing things like watering the lawn only twice a week (easy). I still see people watering during the peak heat hours of the day; nothing is greater tangible evidence of the failure of science education in this country than a lawn being watered when it's 105 F outside.
There are many things that make up for the heat. The sky is an indescribable shade of blue, speckled with brilliant white fluffy clouds that seem to move as slowly as I do in the heat. At night, it's very comfortable walking outside, so coming home late from dinner long after the sun has set is a pleasant experience (although the last few days have been almost unbearably hot, even at 10pm).
Texas is experiencing an unusually early start to the hottest weather, which tends to pick up in late July and August. This year, it started in late May. But, as everybody around here likes to say: there is not such thing as "usual weather" in this area. I, personally, like the variability of it.
To my regular readers, I apologize for being so long between posts. The flooding of the house came at a time of great and increasing pressure from the ATLAS experiment. This derailed all of my usual relaxation activities, like writing or drumming. I've been exhausted most of the summer, waking up tired. It's not fun. But it's beginning to get a little better, and I hope to use the blog again as a regular way to help get things out of my head and onto the page.