Welcome to the "Going Up Alleys" Podcast, a highly irregular and potentially self-promoting podcast on directions in science!
Listen to Episode 1: The Cosmos and the Collider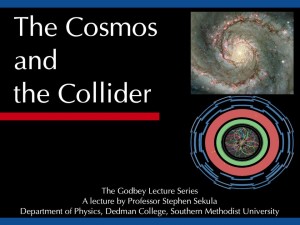 In this inaugural episode, I shamelessly present my recent Godbey Lecture entitled "The Cosmos and the Collider: Our Quest to Understand the Universe." I spoke to a room full of inquisitive Godbey Lecture Series members from a wide set of backgrounds and discussed the connection between collider physics and cosmic questions. I also attempted to communicate what it means to study physics at the LHC, and how recent hints of the Higgs particle may signal a new era of exploration in physics. What lies on the continent whose shores are marked by Mount Higgs?
Show Notes
Slides from my lecture
[nggallery id=4]