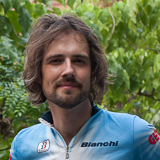 On this episode of "Going Up Alleys," we hear from Professor James Loach (Shanghai Jiao Tong University) about the elusive subatomic particle known as the "neutrino," Italian for "little neutral one." I am joined this time by SMU undergraduate Nicole Hartman, a 2012 SMU President's Scholar and my co-interviewer for this podcast.
This episode is centered on some audio I once recorded for the "Mustang Physics Podcast," but which never saw the light of day in that podcast.
James Loach is Professor of Physics at the Shanghai Jiao Tong University in China. His doctoral and post-doctoral work have focused on the properties of the neutrino. He was part of the team at the Sudbury Neutrino Observatory (SNO) in Canada that resolved the "solar neutrino problem" – the observation that too few electron-type neutrinos come from the sun – by definitively concluding that neutrinos can change form (e.g. electron neutrinos can morph into muon neutrinos, a physical process called "oscillation"). This observation is part of the modern basis of all future neutrino studies, including the ongoing quest to measure the tiny, tiny mass of the neutrino.
Nicole Hartman is an SMU President's Scholar hailing from Lewisville, TX. She joined us as an undergraduate at SMU in 2012 and among her many other academic and non-academic activities has been active in leadership in the SMU Society of Physics Students (SPS). Nicole and I had the pleasure of interviewing James when he came to SMU in the fall of 2012 to work with our dark matter colleagues and give a seminar on his neutrino work. Please enjoy!
Show Notes
0:00: Opening Theme and Title
0:51: Introduction – the story of the neutrino
7:19: Interview with James Loach
22:26: Closing Remarks – the future of the neutrino and the value of basic science
24:58: Closing Theme and Credits
Music for the podcast is licensed under Creative Commons and is by the artist, Nicoco. The song used in the podcast is "Occipital," from the album "Classicoco," and is available from Jamendo.