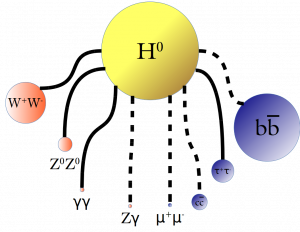 In our book, "Reality in the Shadows," Jim Gates, Frank Blitzer, and I take a look at the history of the Higgs particle, see the day the discovery was announced through the eyes of one of the co-authors (me), and explore what the Higgs might be besides being just another important subatomic particle.
In some future edition of the book, we can perhaps speak more definitively about the Higgs boson and the ultimate place it will take in the pantheon of human knowledge. For now, a 20-year (or longer) program of study is underway, initiated in 2012 and 2013, to map out all the properties of this fascinating particle. Discovering something is the first step. Now we must explore what we have found.
The Higgs is still veiled in shadow. We don't know all its properties as precisely as we would like, and many we do not know at all. Could something new lurk in those unexplored crevasses of its nature? In this post, I'll take you inside one of the shadows where light is beginning to shine, and we'll see something of the truth and beauty of the Higgs boson.
Continue reading "A View from the Shadows: The Truth and Beauty of the Higgs Boson"