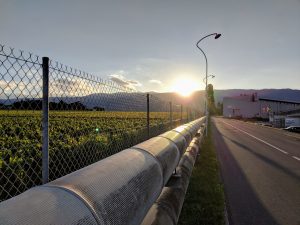 What an incredible week. Not only was the weather a strange cycle of "uncomfortably hot" and "beautifully cool", but the sheer pace of work this week was blinding. There was time to relax a little, too, as when the weekend came I had dinner with an SMU alumna and her husband – the person whom I met on the plane on my way to CERN a few weeks ago. There was a ton of research, some reflection on the U.S. in lieu of being here at CERN, and a lot of walks and runs around CERN, along with some wonderful opportunities to take photos that mix nature and scientific infrastructure.
Let's talk about research
I am working in a large collaboration with rules about sharing information publicly before it's officially public, but I'll say what I can.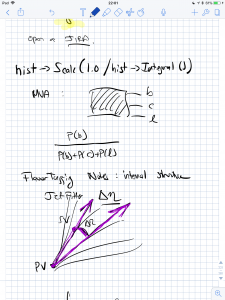 It's no secret that I work on the operations side of the ATLAS experiment as a convener of the ATLAS b-jet trigger signature group. Our job is to deploy algorithms in the online software environment for the purpose of identifying whether or not a "jet" – a related collection of particles – originates from a bottom quark. We need to keep those algorithms from using too many resources, while maintaining high efficiency. This past week, I spent time working with colleagues to run an analysis on the 2018 data to evaluate the performance of these algorithms so far on the data. I've managed to have a look at over half of the data we've taken so far this year, and I'll present the results to my colleagues tomorrow, but I have to say it's been extremely exhilarating to get my hands on the data, select a subset of interesting events where performance is more easily measured, and then look at the performance in various ways. I'm extremely excited to see what comments and ideas others have, and I hope we can make this information public very soon. I think that the LHC community will be very interested to see such things as a foundation for reliable analyses later that will need these algorithms.
I'm also excited, because my post-doctoral researcher completed a major piece of work to deploy an improved jet tagging algorithm into the online environment. It will take time to work through the system, but it's moving along now with a lot of momentum. I'm excited we'll have this for physicists to play with in the data we will take during the remainder of the year.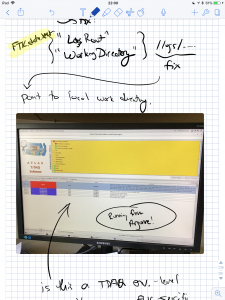 In addition, one of my graduate students made some progress in getting the standard ATLAS Trigger Data Monitoring software up and running on a test stand at Argonne National Laboratory. Ultimately, this software has to talk to a piece of hardware that is part of the "Fast TracKer (FTK)" system to be deployed in full for LHC Run 3. However, a lot of work is ongoing to test a "slice" of this system in real running conditions. My student is working on monitoring software to watch the data integrity in the hardware, and getting this monitoring tool running at Argonne will be a big deal
On the physics analysis side, things have been crazy. One of my students and his colleagues "broke the dam" that had been holding back some of their work (a bug was found in the data files they were using to do the analysis, and they all basically had to start their work all over again). On a different project, the heat is on for summer as a crazy timeline has been imposed on our work to see what we can achieve this summer. Nuts. Totally nuts. Should be fun. I'm pulling a ton of data to SMU to help in this sudden push to get the analysis out the door. There's about 10TB to bring to SMU, and then process… again, should be fun.
20 years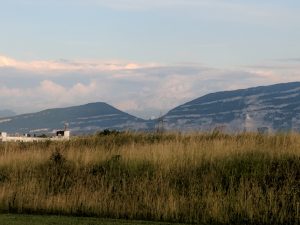 On my long run yesterday, I headed east along the north side of CERN and then turned south to run along a bike path I used to take to CERN during my first summer at the lab. That was in 1998. As I ran on the path, it dawned on me that it had been 20 years since I first came to work at CERN. I arrived in the summer of 1998, not yet a graduate student at University of Wisconsin-Madison, fresh out of Yale, and starry eyed as I went to work for Professor Sau Lan Wu on the ALEPH Experiment, one of the experiments of the Large Electron-Position (LEP) Collider.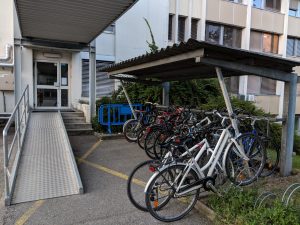 That was an amazing summer: sharing an apartment with Andy and Bob, my new graduate student friends and colleagues; biking the many miles from our apartment in Vernier to CERN, then back again late each night after a long day of work and meetings; that sickly sweet perfume smell that pervades the Swiss countryside between CERN and Vernier (it still does!); my first time living near mountains; my first time living outside the United States; my first time really working with less supervision in a very high-pressure physics group. I started to grow up faster that summer. It would serve me well in the years to come after.
It's been 20 years. Amazing. And there I was, running along a path that I used to find challenging to bike. What a difference 20 years makes.
Dining with new friends
I made a new friend on the flight from JFK to Heathrow, back when I first came to CERN a few weeks ago. Her name is Barbara, she's an SMU alum, and she picked me out of the crowd at Heathrow because I was wearing an SMU tee shirt. She invited me to join her and her husband, Alphy, at a restaurant in Duly, north of Geneva along the western side of the lake. I hopped a train at the Geneva Airport that went through Geneva, Coppet, Nyon, and then eventually to Gland, where they picked me up at the station. I had a glorious time with them. Barbara is excited to build new networks of alums, current, and potential students in the region around France and Switzerland. Having CERN so close, and having and SMU presence there, I hope will be a big asset for such an effort. Here are some photos from a wonderful Saturday evening.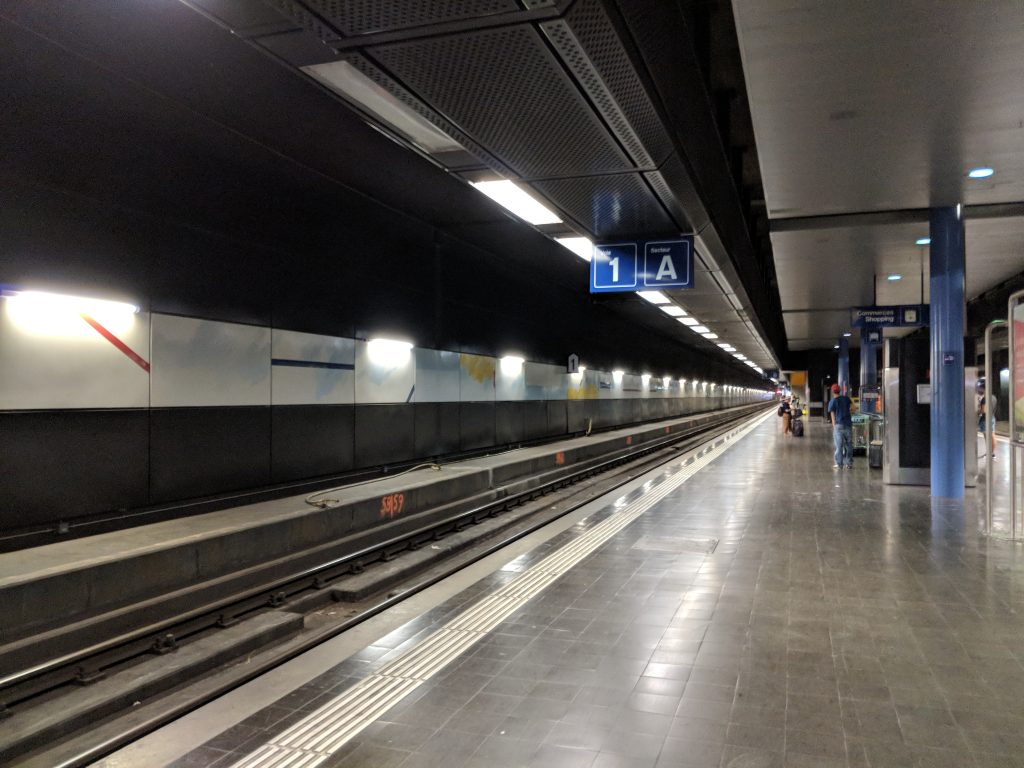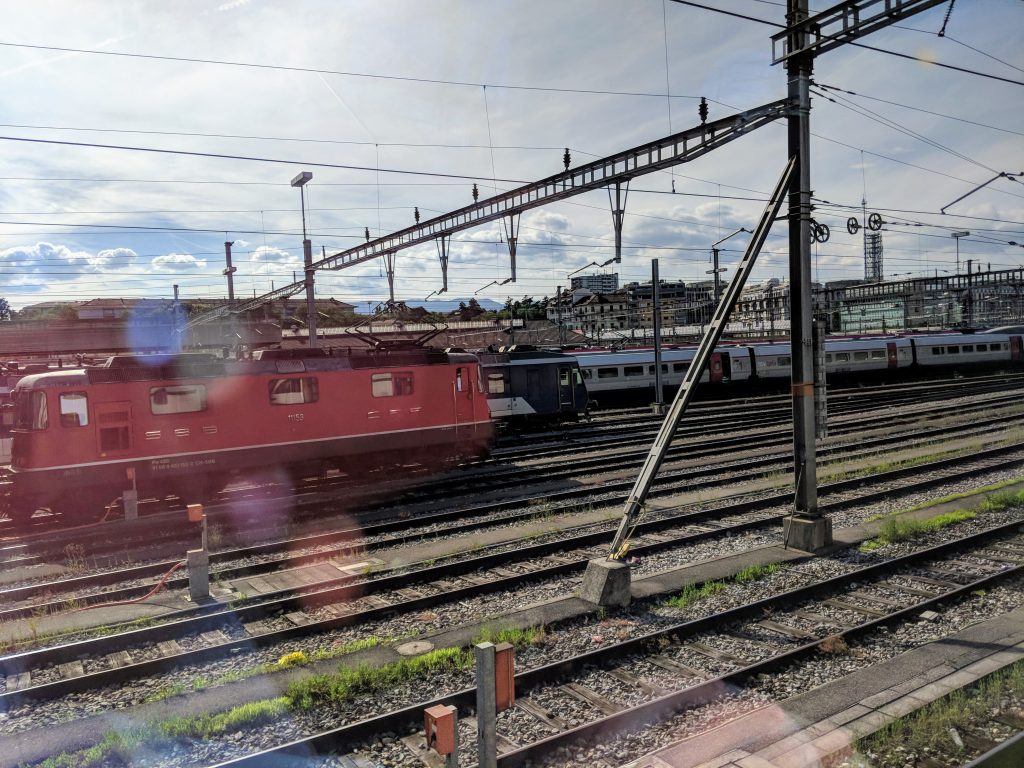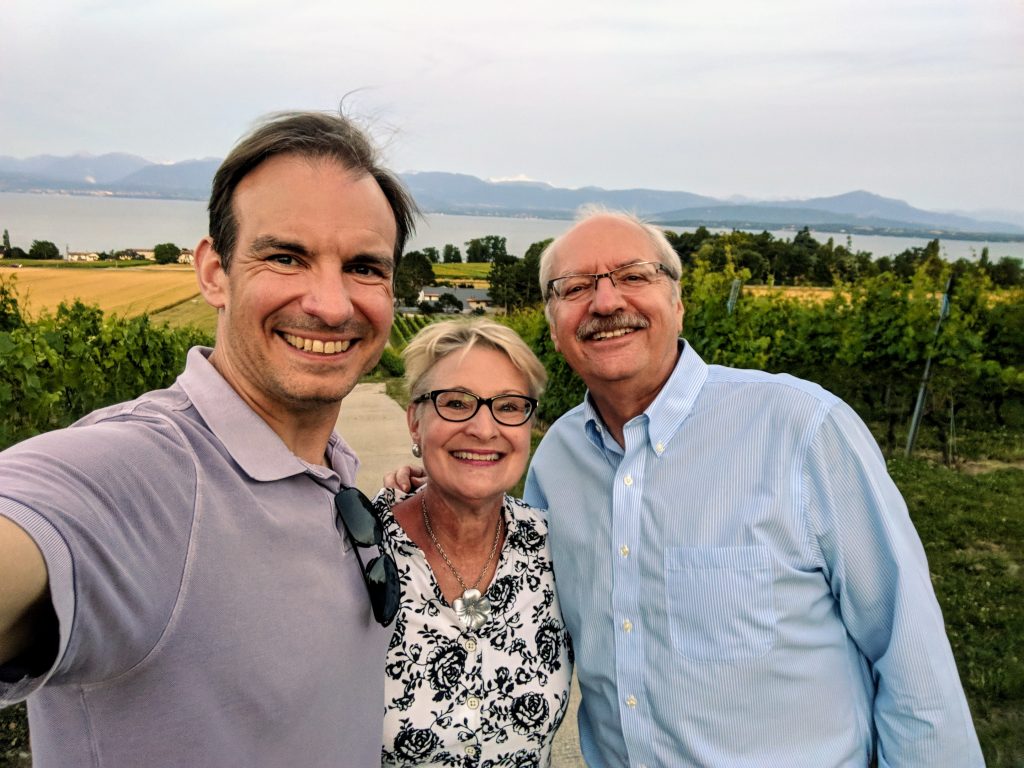 Reflections on my homeland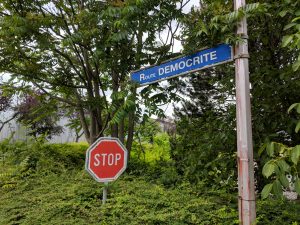 This was quite a week. After a whole lot of lying and bluster, the President finally did what everybody knew he had the power to do the entire time: end his own administration's interpretation of the law that, they claimed, required them to separate families who cross into the United States without presenting themselves at a border crossing point. The crisis is not over. Thousands of children separated from families have to be reunited. The executive order was hastily written, as if by amateurs with no thought or care. There was no plan to reunite families. No plan to improve the funding of the judiciary, whose job it actually is to process the cases and make decisions about deportations, or asylum claims. The Department of Homeland Security interpreted the order one way, the Attorney General another.
Chaos is his product.
My great grandparents (father's side) came to the United States almost a century ago. By all accounts, they were not great intellects or titans of industry. They were hard working, salt-of-the-earth Lithuanians who probably didn't speak much, if any, English. They were people fleeing Eastern Europe, looking for a better life in America. If there were a land bridge between Europe and America, I doubt they would have wasted the money or time on an expensive sea journey to a port city. I doubt they would have sought a port of entry. I think they would have come by any means necessary. My father's generation was the first to see anyone go to college in the family. I am the first person to earn a Ph.D. in my family, just as Jodi is the first person in hers.
So when I see people fleeing horrible living conditions in Central America, I think about my father's family making a perilous journey by sea to escape Eastern Europe and the general strife of Europe in the early 1900s. When I see people bringing their families along dangerous land journeys, in the hands of smugglers or in "caravans" trying to make it on their own, I wish they had a boat they could charter (of course, that would take money they probably don't have) that would take them safely to a port city. On foot, they might make it to a land-based port city; they might not. They might die in the desert, or at the hands of the smugglers who want the money but not the people who paid it. These migrants are so hungry to flee the dangers that lie behind, that some would happily be separated from their kids if they knew their kids could stay in the U.S., even while they might be deported. Separation may deter some, but not all; not if there is a glimmer of hope for a better life for their kids. They would sacrifice, just as, I would wager, my father's family would have sacrificed (and probably did) to make the journey to America.
Why? Because despite the best attempts of a chaotic executive, we are still the land of the free. And what better place for people willing to risk their lives to escape worse risks to their lives back home, than in the place we call the home of the brave.
I welcome the brave immigrant, legal or illegal, to the U.S. I wish there were a fair and clear process, a well-funded judiciary, to handle their cases and make good legal decisions about what to do in each case. But, mostly, I see cowards in charge of our country. Cowards make the best bullies, because they are compensating to hide their own weakness… their own fear. We need more brave, and less of those who would shun the brave to hide their own cowardice.
Scenes from CERN
Let's end on a high note. Let's look at some of the pictures I snapped on my evening wanderings around CERN this past week.