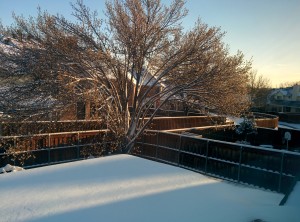 This was a mixed week, filled with ruined plans and bad weather. Considering this week was the run up to Spring Break, it was a downer. There was sleet and snow; a power supply that never showed up; a backup power supply that FedEx couldn't deliver as promised; more adventures in the flipped classroom; tough decisions that have to be made about research.
And most of all, I have to keep telling myself: "Vacations are for undergraduates." Sage advice from my graduate school mentor, Loyal Durand, who reported it as sage advice from Robert Jastrow in 1953.
For the week before Spring Break, this one pissed me off. Here are some of the . . . is "highlights" even the right word? Well, some of them were highlights . . . the rest, not so much.
FedEx and its sad, sad tracking page that keeps telling me that its not possible to estimate delivery of the "Plan B" HV DC power supply for our Electric Field/Radon Mitigation Experiment.

The misadventure of the 25kV power supply for our Electric Field/Radon Mitigation experiment continued. The original supplier from who we ordered a supply had sent us one back in January that never worked. We confirmed this week that the bad supply was received by the company on Feb. 24 . . . almost 2 weeks ago. One of the company staff told us in an email almost 11 days ago that the replacement had already shipped. But, we never received it this week. The company was unable to locate documentation about either receiving the old supply or shipping the new one. On Wednesday, I executed "Plan B" – I bought a second, backup 5-35kV power supply from an independent company. They shipped it out within 2 hours, but bad weather across the U.S. has delayed delivery and FedEx cannot even give us an estimated arrival time (see figure for a summary of my sadness). I've asked around at SMU to see if someone has a ~10kV DC power supply just lying around, but to no avail. We are very close to canceling our poster at the LRT Conference because it's unclear we can deliver reliable results on that timescale, given that we don't even have a power supply to run the experiment.

SMU decided very late (between 05:30-06:00 the morning of) to close the campus on Thursday due to the latest round of bad winter weather for North Texas. Other institutions of higher education around the Metroplex were able to make that decision the night before. This round of bad weather brought rain, sleet, and then inches of snow. We got about 2 inches at our house; DFW reported 3.5 inches. This was a "five year snow event" – one that happens about every half-decade. Roads were treacherous and the day at home on Thursday was welcome relief and a chance to catch up again on work.
The flipped classroom model has proved useful for all this bad weather. The learning continues at the same pace because class time is not used for lecture, only for problem-solving. Students in my PHYS 1308 (Intro. Electricity and Magnetism) course continued to receive reading and video assignments, as well as my slides and notes on problems that would have been worked in class. Given the difficulties on Exam 1 and the fact that I offer no cumulative final exam to compensate for deficiencies, I offered two "make-up problems" to students in my class to help them address deficiencies detected on Exam 1. They have Spring Break to work just one of two Exam 1-like problems (they have to tell me which one they will work – I will only grade what they tell me). If they do better on the problem than they did on the corresponding Exam 1 problem, it replaces their grade on that problem. It won't let most students achieve perfect scores, but it will address weaknesses that will hurt them going into the next subject (magnetism).

SMU Undergraduate Mayisha Nakib earned the Texas Section of the APS Robert S. Hyer Award for excellence in undergraduate research.

Jodi went to the Texas APS/AAPT/SPS Joint Spring Meeting at Lee College in Baytown, TX (just east of Houston). I was to attend, but remained at SMU to wait for the power supply that never arrived. Jodi's student, Mayisha, was awarded the Robert S. Hyer Award for excellence in undergraduate research for her achievements as a student physicist. The award is given each year to one graduate-mentor and one undergraduate-mentor pair.

As a result of all this, we had to miss our niece's 7th birthday party in Wisconsin. We'er pretty sad about this. Talk about the frowny frosting on the misery cake that has been much of this week. Thank goodness the APS/AAPT/SPS meeting went well for Jodi and Mayisha or I'd have little else to celebrate this week.
On the ATLAS research front, things were quite a bit brighter. We had the first part of a 2-part SMU Trigger and Data Acquisition System workshop to review the state of our work and plans for Run 2. It's nice to be productively introspective some times, and it's a lot of fun to see what everybody is interested in and working on.
Also on the ATLAS research front, my student is making progress toward identifying a role in the first Run 2 H → bb analysis. He has to talk to leadership in that effort, but hopefully this will lead to an intellectually stimulating and meaningful contribution to the larger ATLAS effort on this subject. We certainly hope we bring to the table some expertise in Higgs physics and Run 2 bottom-jet trigger and selection. The goal is to have this contribution be the basis of his Ph.D. thesis.