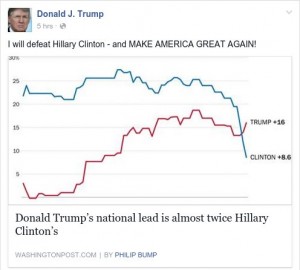 Donald Trump wrote, in response to statistics reported in a Washington Post article [1], that "I will defeat Hillary Clinton…". But his claim is based on a total misreading of what the data used in the Post article, taken from Real Clear Politics (RCP) [2], actually say.
If you sit and think about the numbers from RCP for… oh, I don't know… say, 20 seconds, you realize the following:
In the Republican match-up, an average of polls puts Trump abou

t 16 points ahead of his closest Republican rival, Ted Cruz.

In the Democratic match-up, an average of polls puts Clinton ahead of her closest rival, Bernie Sanders, by about 8 points.
So Trump's lead over his closest Republican  rival is about twice Clinton's lead over her closest Democratic rival… but that only tells you about who is polling better than their party rivals ahead of their respective party primaries… it DOESN'T tell you about who would win in a national contest BETWEEN the two parties.
In fact, RCP's data on this is clear: Clinton would win by a margin of 2% over Trump right now, were they to face each other nationally[3]. On the other hand, matching Cruz against Clinton right now in a national election has Cruz ahead of Clinton by about the same margin. Rubio, on the other hand, would be ahead of Clinton by 3 points.
So… no, Trump, you would NOT beat Clinton right now, according to the data. In fact, Cruz and Rubio are better at you at beating Clinton (based on data that is almost 11 months away from the election) in a national contest.
For a person who claims to be such a good businessman, he sucks at basic math. Or, another way to interpret his behavior on this matter is merely that he's very good at propaganda. Either way, his command of the facts should be a terrible warning sign. Ignorance, or propaganda, are no substitute for a commitment to reality. It's no surprise that Trump was awarded PolitiFact's "Lie of the Year 2015" award [4].
[1] https://www.washingtonpost.com/…/donald-trumps-national-le…/
[2] http://www.realclearpolitics.com/
[3] http://www.realclearpolitics.com/epolls/2016/president/us/general_election_trump_vs_clinton-5491.html
[4] http://www.politifact.com/…/politifact-2015-lie-year-cover…/