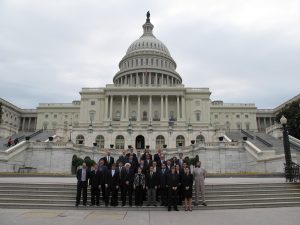 Pens, phones, and word processors at the ready. In the coming months, President-Elect Trump will be filling some 4000 positions. These will include those that oversee science policy and direct agencies with science funding oversight. The American Institute of Physics (AIP) "FYI Bulletin" today nicely covers the appointments of most interest to the science community and the effects that his transition team leaders can have, especially those team leaders who are avid science doubters (that is, they call into questions the findings of science in favor of ideologically motivated belief systems).
Below, I excerpt some key moments from the FYI Bulletin that struck me. The full FYI Bulletin is available online [1]. If you care about sound science, be ready to contact your members of Congress in the coming months and express you concerns you might have about decisions the new President-Elect makes. It doesn't take more than a few letters and phone calls on the same issue to catch the attention of your member of Congress.
Here are some excerpts from the bulletin today that I found interesting or poignant.
Trump has not publicly announced an adviser to lead on science issues, nor is it clear whether there are any scientists within his orbit. As ScienceInsider reports, there was little interaction between the science community and the Trump campaign during the election season. For now, the role of science in the Trump administration is unclear.

However, the selection of a science advisor is not usually among the first orders of business of a presidential transition team. President Obama, for instance, announced his selection of John Holdren as his science adviser on Dec. 20, 2008, and his appointment of heads of the science agencies came months later.
Regarding appointment of an Office of Science and Technology Policy (OSTP) director:
Rush Holt, CEO of the American Association for the Advancement of Science and a former congressman, has urged Trump to swiftly select a science advisor, citing a recent report by former OSTP Director Neal Lane that argues it is important for the next president to make such an appointment at the outset of their administration.
Regarding the Environmental Protection Agency, where Trump's own ideologies clash with the established scientific data about the natural world:
EPA: Myron Ebell, director of energy and global warming policy at the Competitive Enterprise Institute and chair of the Cooler Heads Coalition that aims to dispel "myths of global warming," is running the EPA transition team. Ebell is a major opponent of the mainstream scientific consensus on anthropogenic climate change and a vocal critic of many environmental regulations. Trump has said he intends to dismantle a number of the Obama Administration's environmental policies, including the EPA's proposed Clean Power Plan that would cap greenhouse gas emissions from U.S. power plants. Trump has also repeatedly promised to withdraw the U.S. from the Paris climate change treaty, which the U.S. ratified in September.
[1] https://www.aip.org/fyi/2016/2016-election-science-appointments-trump-administration