(updated 4/26/2020 with demographic and testing data)
Maybe it's because Texas, as a state, sent signals that it was "okay" to behave like we used to. Maybe it's because the President lied to the nation over, and over, and over again about the reality of COVID-19. Maybe it's because people have become complacent. Maybe it's because testing is improving in our county. Maybe it's because that kid who helped Jodi with her groceries today, who decried shutting down What-a-Burger just to save human lives, has been going out for fast food with his friend more than he let on.
Any way you split it, Collin County, TX is losing ground to the SARS-CoV-2 virus. We are home to a population of 1 million people. As of April 13, the county had only performed 3464 tests of people for SARS-CoV-2. As of today, we have 639 known cases of COVID-19. The number of cases reported each day is climbing again, doubling about every 22 days; that's a decrease in the doubling rate from our recent best, which was 35 days (over one month). Our worst doubling rate was before shelter-in-place restrictions were put in place, with a case doubling rate of every 2 days.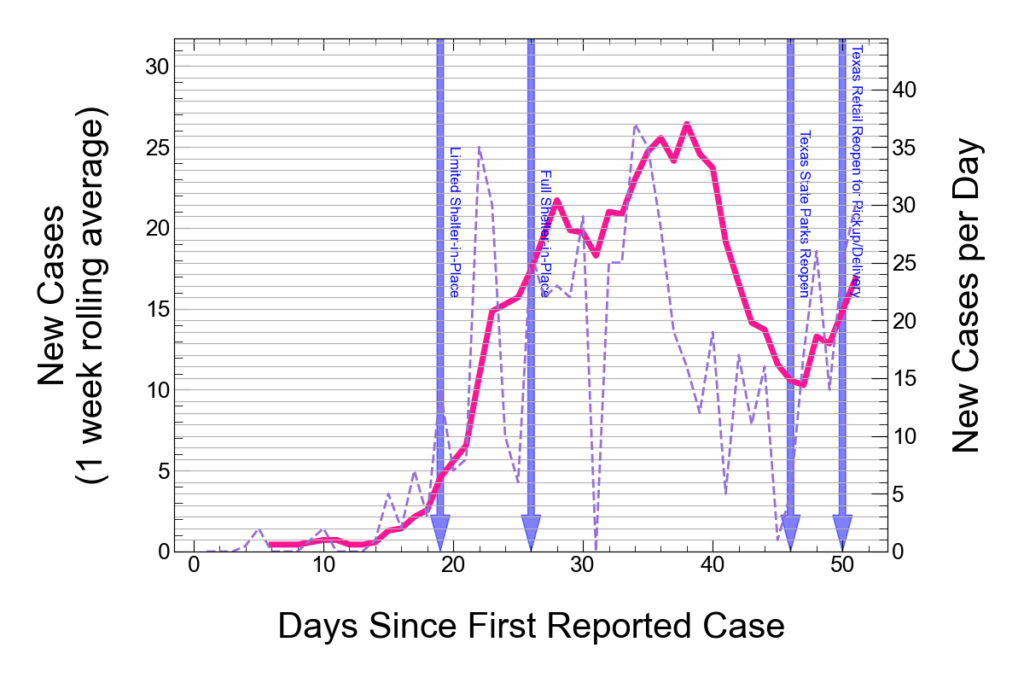 Update: if scientists were part of our county's process of planning for the economic reopening, they would be able to inject data from other places that have relaxed social distancing and re-opened. We have much to learn from cities and regions that have already tried this experiment… and it hasn't gone well.
(Tom Inglesby is the director of the Johns Hopkins University Center for Health Security. He is a medical doctor who completed his internal medicine and infectious diseases training at Johns Hopkins University School of Medicine, where he also served as Assistant Chief of Service in 1996-97. Dr. Inglesby received his MD from Columbia University College of Physicians and Surgeons and his BA from Georgetown University.)
Coda
The judge who oversees Collin County proclaimed on April 24 that his executive order from March 20, declaring various closures, shall expire on April 30. This he proclaimed even as the progress the county had made in controlling the virus's spread was reversing. Here is what will end on April 30 as a result of this new order ending the March 20th order:
Effective as of 11:59 PM on Friday, March 20, 2020, and continuing for as long as the Declaration of Local Disaster for Public Health Emergency remains in force;
All Collin County government offices shall be closed for unscheduled in-person services.
All Collin County government offices shall remain open for scheduled in-person appointments, as well as by phone, by mail, and online. Citizens requiring in-person services may schedule an appointment by contacting the appropriate department.
The Collin County Commissioners Court shall continue to meet as scheduled. Commissioners Court meetings will not be open to on-site visitors, but all meetings will continue to be broadcast live on the county website, and provision will be made for the public to participate electronically in every meeting.