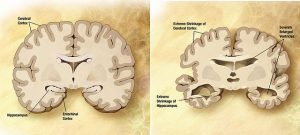 The most definitive way to diagnose Alzheimer's Disease, a severely degenerative disease of the brain, is an autopsy. Of course, the symptoms show up earlier – memory loss, personality changes, physical changes, and differing degrees of diagnosis are achievable with cognitive tests and scans of the brain. But distinguishing Alzheimer's from other neuro-degenerative diseases of aging is still a difficult medical challenge. All such diseases do have one thing in common: they ravage the mind of the afflicted, ruining that life and the lives of those around them, until there is no more of the original person left. There is only the burden of intact memory born by those who remember the person, and the emotional and financial hardship, born out of love and devotion to the person, in caring for that person whose brain is utterly savaged.
When Donald Trump ran for President, he famously promised to "drain the swamp" – the swamp being Washington D.C. and the metaphor intended to convey that he will remove corruption and gridlock (due to entrenched interests) from government. It is the height of delicious irony that the claim of D.C. being built on a swamp is an utter myth, based on a tiny drop of truth (a very small part of what is now D.C. was once marshy land), and yet forms the basis of a (hollow) political slogan.
While Trump has failed to do what he pledged – in fact, he introduced even more special financial and business interests into D.C. while actively encouraging and cultivating petty partisan deadlocks and even rifts within his own party – he has succeeded in doing something else: draining the political brain of the United States.
The symptoms are apparent, but I fear America will only realize the extent of the degeneration when the Trump administration is a by-gone era and an autopsy of his legacy reveals the extent of the disease. I fear we may learn that this singular act of depleting the nation's science policy capabilities also destroyed America's competitiveness and leadership in the world, at the same time making it impossible to even sustain the innovation economy required to achieve his isolationist "America First" policy platform. But as with the Alzheimer's patient, the most definitive diagnosis would come too late to save the patient or the family. Can we as a nation reliably diagnose the illness now, and rush to treat?
Unlike Alzheimer's or other neuro-degenerative diseases, Americans have a chance to prevent the disease from spreading by engaging their representative lawmakers and arguing loudly and publicly for the brain drain to stop.