As I announced in my professional blog the other day [1], Jodi and I will be joining the faculty at Southern Methodist University [2] in August. We are VERY excited about this – the move to Dallas, teaching, mentoring students, hiring post-docs, establishing our future research careers. We rarely have such big news as this, so we actually went way too far and created a little newsletter to send to family and friends. Click the image below to download a copy.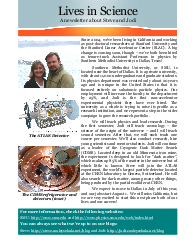 We are already thinking ahead to the kind of work we want to do. Jodi is going to continue in her leading role in the Cryogenic Dark Matter Search (CDMS), and develop facilities to support future dark matter experiments (including SuperCDMS). I am going to join the ATLAS experiment, a process which I am slowly starting now. Over the next few months we'll being travling, apartment/house hunting in Dallas, and thinking about how we'll want to pursue external funding and attract people to work with us at SMU.
I'll keep my faithful readers posted as to the developments in our life and careers over the next few months and years. Now, the real fun begins!
[1] http://steve.cooleysekula.net/goingupalleys/2009/03/30/thinking-about-the-future/