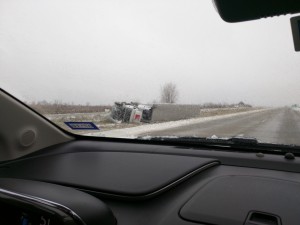 Tornadoes, thunderstorms and heavy rains, floods, and a blizzard. And we're not even there yet. Some observations on our northbound new year's travel to see family in Wisconsin, with some photos. This has been a tour of the damage wrought by arctic air combining with the force of the El Nino in the Pacific and the general saturation of air due to global climate change (warm air holds more moisture, a simple fact learned in high school). In two days and five states, we've experienced a little menagerie of the wild weather conditions that are made possible by periodic phenomena like El Nino and the long-term lever arm of human-induced climate change.
The Night Before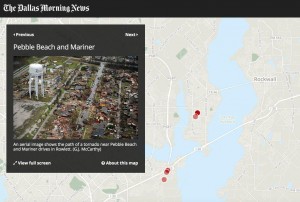 The night before we left Dallas for Wisconsin, hot air and cold air and moist air combined to form supercells that cut a path of devastation through North Texas. Headlines have centered on a set of tornadoes, including at least one EF4 "wedge tornado" that destroyed lives and property in Garland and Rowlett, Texas. Where we live, a supercell that had produced a tornado south of Dallas passed over us and then created a second tornado northeast of us; we were lucky to have been spared more than terrible lightning and thunder and very heavy rains. Nonetheless, in an abundance of caution and in response to the National Weather Service declaring a "Tornado Warning" for our county. We gathered some blankets, a radio, a flashlight, and our two cats in the inner-most room in our house and hunkered down for 20 minutes while the system passed overhead. We live-streamed local TV to keep an eye on the storms and watch scenes of devastation, even at night, air in real-time.
The next morning, we packed the car and set out north for Wisconsin.
The Floods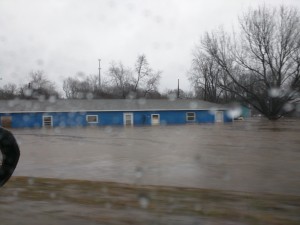 Oklahoma and Missouri seemed to be underwater. Lakes had formed on both sides of long stretches of highway. Cattled seemed huddled on little isthmuses, strips of land once surrounded by dry pastures now completely submerged under inches and inches of brown water. In Carthage, MO, traffic was forced to leave I-49 to avoid a stretch of the interstate completely inundated with flood waters. As we drove through Carthage, we were on stretches of road that was inches from being overrun on either side by rising flood waters. Forests were swamps. Houses were drowned. By the time we got to our night destination near Kansas City, Missouri's Governor had declared a state of emergency.
The Blizzard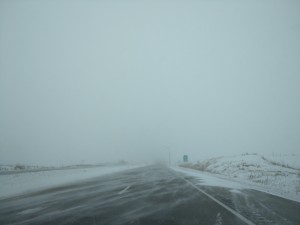 The high the day before we left Texas was about 78F where we lived. The storm systems that formed in the region were due to cold northern air encountering the hot and moist gulf air that had sat over us during Christmas, making for beautiful December weather. Of course, when the storms cleared all that remained behind was the cold air. In Texas, temperatures dropped to freezing overnight and parts of Texas had winter snowstorms of terrible fury today. In the central Midwest, where we started our day, the snow was coming down at a modest pace. Road conditions were reasonable as we left Kansas City. But driving north we could see the weather maps told a tale of long drives through northbound snow. As the storm moved north, so did we. The winds kicked up as the morning went on. The snowfall itself was not so bad, but the drifts from the heavy winds stretched like icy dunes from the roadside into the roadway, blocking lanes and making passing treacherous. We drove at an average speed of close to 50MPH on the highway today, and only made it as far as Hudson, WI (our goal had been to get to Eau Claire or Owen by dinner time). The weather cleared in Minnesota as we pulled north of the moving storm, but we were tired and hungry and decided to get east of Minneapolis and St. Paul before quitting while the conditions were still good.
Now, it's blowing outside and snowfall is heavy. By morning, we expect many inches of snow to be in the ground. We have one more day of travel before we arrive at the Cooley family home for a New Year celebration. But this trip has so far been a menagerie of all the types of weather I can so far imagine being possible in just two days and five states, thanks to Arctic air, El Nino, and the moisture-laden air cooked up by global climate change.