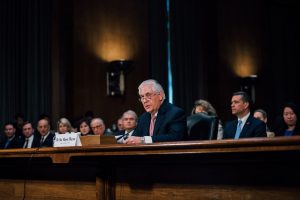 It's been days since the confirmation hearings of Mr. Rex Tillerson for United States Secretary of State. I was not able to listen to his hearing, but his testimony has been available in recordings with some transcripts becoming available. The topic of most interest to me was potential U.S. climate change policy. While Tillerson is not the future President, and President Trump can certainly pressure his cabinet to execute his policy intentions, it was interesting to see Tillerson take a public stance in opposition to his future President's own stance on climate change policy. It was also important to note that even he made it clear his service is at the pleasure of the President. We must be mindful that this President's words mean little, making his actions very hard to predict. Citizen scientists should be ready for all possible outcomes of future U.S. climate science and climate change policy, even if there are positive signs of a schism inside President's Trump's own cabinet.
I here select the relevant excerpts from the transcript of the hearing [1].
(Around 1:15:44)
Sen. Ben Cardin (D-MD): LET ME ASK A FINAL QUESTION. I WAS MEETING WITH MR. PRUITT YESTERDAY AND I ASKED HIM ABOUT HIS VIEW OF GLOBAL LEADERSHIP ON CLIMATE ISSUES. HE SAID YOU SHOULD ASK THE SECRETARY OF STATE NOMINEE. SO I WILL ASK IT TO YOU. WE WERE PART OF COP-21. DO YOU AGREE THE UNITED STATES SHOULD CONTINUE IN INTERNATIONAL LEADERSHIP ON CLIMATE CHANGE ISSUES WITH THE INTERNATIONAL COMMUNITY?
Mr. Rex Tillerson: I THINK IT IS IMPORTANT THAT THE UNITED STATES MAINTAIN ITS SEAT AT THE TABLE ON CONVERSATIONS AROUND HOW TO ADDRESS THREATS OF CLIMATE CHANGE WHICH DO REQUIRE A GLOBAL RESPONSE. NO ONE COUNTRY'S GOING TO SOLVE THIS ALONE.
(Around 2:17:35)
Sen. Tom Udall (D-NM): I WAS VERY HEARTENED BY SOME OF THE EXCHANGE THAT WE HAD IN MY OFFICE WITH REGARD TO CLIMATE CHANGE. AS YOU KNOW, CLIMATE CHANGE HAS BEEN EXPRESSED AS A SERIOUS NATIONAL SECURITY CONCERN. SEA LEVELS RISING, THREATENED NAVY BASES. WE HAVE CROP DISRUPTIONS AND WATER SHORTAGES ALL OVER THE WORLD, AND IN MY STATE OF NEW MEXICO, AND OTHER NATURAL DISASTERS THAT ARE GOING TO BE THREATENING THE STABILITY OF MANY DEVELOPING COUNTRIES. DURING THE TRANSITION, SOME DEPARTMENTS HAVE BEEN ASKED TO NAME INDIVIDUALS INVOLVED IN CLIMATE POLICY WHO ATTENDED THE INTERNATIONAL CLIMATE MEETINGS WHICH MADE MANY FEDERAL EMPLOYEES CONCERNED ABOUT A WITCH HUNT AGAINST THE CIVIL SERVANTS INVOLVED IN CLIMATE POLICY. DO YOU PLAN OR WOULD YOU SUPPORT ANY EFFORTS TO PERSECUTE, SIDELINE, OR OTHERWISE RETALIATE AGAINST THE CAREER STATE DEPARTMENT EMPLOYEES WHO HAVE WORKED ON CLIMATE CHANGE IN THE PAST?
Mr. Rex Tillerson: NO, SIR, THAT IS A PRETTY UNHELPFUL WAY TO GET STARTED.
Sen. Tom Udall (D-NM): WELL… I LIKE THAT ANSWER.  WHILE YOU WERE WERE CEO OF EXXON, THE COMPANY WEBSITE STATED (AND I QUOTE HERE): "THE RISK OF CLIMATE CHANGE IS CLEAR AND THE RISK WARRANTS ACTION. INCREASING CARBON EMISSION IN THE ATMOSPHERE ARE HAVING A WARMING EFFECT. THERE IS A BROAD SCIENTIFIC AND POLICY CONSENSUS THAT ACTION MUST BE TAKEN TO FURTHER QUANTIFY AND ASSESS THE RISK," AND THAT IS THE END OF THE QUOTE ON THE WEBSITE. I UNDERSTAND THAT IF CONFIRMED, YOU WILL BE SERVING UNDER PRESIDENT-ELECT TRUMP, BUT DO YOU PERSONALLY STAND BY THIS STATEMENT TODAY, YES OR NO?
Mr. Rex Tillerson: I DO NOT TAKE EXCEPTION TO THAT STATEMENT. I MIGHT ARTICULATE IT A LITTLE BIT DIFFERENTLY AS TO MY PERSONAL VIEWS. THE PRESIDENT-ELECT HAS INVITED MY VIEWS ON CLIMATE CHANGE, AND HE HAS ASKED FOR THEM, AND HE KNOWS THAT I AM ON THE PUBLIC RECORD WITH MY VIEWS. AND I LOOK FORWARD TO PROVIDING THOSE IF CONFIRMED TO HIM, IN DISCUSSIONS AROUND HOW THE U.S. SHOULD CONDUCT ITS POLICIES IN THIS AREA. ULTIMATELY, THE PRESIDENT-ELECT HE WAS ELECTED, AND I WILL CARRY OUT HIS POLICIES IN ORDER TO BE AS SUCCESSFUL AS POSSIBLE. BUT I THINK IT IS IMPORTANT TO NOTE THAT HE HAS ASKED, AND I FEEL FREE TO EXPRESS THOSE VIEWS.
[1] https://www.c-span.org/video/?421335-1/secretary-state-nominee-rex-tillerson-testifies-confirmation-hearing