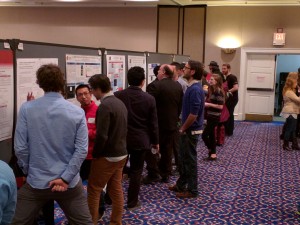 This was an incredible week, not because of anything that happened specifically to me but because of what happened for all humankind. At SMU, we were visited by Prof. Tony Gherghetta from the University of Minnesota who gave a fantastic seminar at SMU on the subject of composite theories of new physics at the LHC. The physics community was abuzz with rumours about the press conferences and seminars planned by members of the LIGO Science Collaboration on Thursday, Feb. 11. The rumours, this time, proved to be true. The LIGO Science Collaboration announced the discovery of gravitational waves and the birth of a new form of astronomy. Jodi delivered the Clare Boothe Luce lecture at the University of Dallas that same day. The week closed out with a trip to Wisconsin for a nephew birthday party. What a week.
Composite Theories of New Physics
Tony Gherghetta was a guest of ours at SMU this past week to speak at our Monday physics seminar on the subject of composite theories of new physics, with applications to the Large Hadron Collider. Tony was an outstanding guest and speaker, and we had a near-record number of students, post-docs, and faculty join him for dinner on Monday night. The basic idea is this: we have assumed that the Higgs Boson discovered in 2012 is a fundamental particle, but what if it were the herald of a new kind of strong high-energy dynamics? "Compositeness" is the idea that the Higgs is actually composed of some new fundamental fields. This idea can still be true in the face of existing constraints, and turns out to be no more finely tuned than the ever-constrained notion on "Supersymmetry." Tony walked us through this intriguing theoretical subject, and he taught a lot of us in the audience basic facts about the nature of the strong nuclear interaction and its descriptive mathematical explanation, "Quantum Chromo Dynamics" (QCD), that I suspect many of us never knew. Dinner was great, with participation from faculty, post-docs, and a graduate student. I'd say that Tony had a captive audience, and we were grateful he made the 1-day trek from Minneapolis to meet with us.
The Discovery of Gravitational Waves and the Birth of a New Astronomy

After weeks of rumours, which only became louder and more specific this past week, the LIGO Science Collaboration held multiple simultaneous press conferences on Thursday (coincident with the release of their article in Physical Review Letters [1]). I was teaching at the time, though before class started and during the student quiz I ran the live feed from the National Science Foundation press conference in Washington, D.C. They announced that not only had they definitively discovered distortions in spacetime in their twin instruments (in Lousiana and Washington) back in 2015, but that these distortions could only be explained if two very close-by black holes, each of about 30 solar masses, had merged suddenly after in-spiraling into a singular black hole of about 60 solar masses. Incredible. Incredible. Incredible.
What a day for humanity. Not only are we now demonstrably capable of observing traveling ripples in spacetime itself, we can make astronomical measurements using this information. A whole new eye has been opened on the cosmos. What will we learn? What things, once mysterious, will now be accessible? I look forward to a lifetime of discovery in this new field.
Jodi's Clare Boothe Luce Lecture at the University of Dallas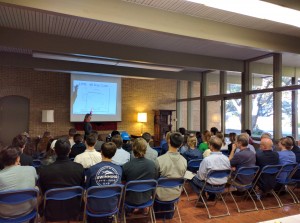 Jodi had been invited to deliver the University of Dallas' "Clare Boothe Luce" lecture, celebrating the life and achievements of women in science and serving to engage college women science students with leaders in the field. Jodi delivered an incredible lecture about her work in the search for Dark Matter, and met with students for dinner after the event. I tagged along, and Jodi's hosts were kind enough to give me a chance to meet also with faculty and students alike. The University of Dallas is a private, Catholic university that boasts an impressive undergraduate physics program that is over twice the size of SMU's. SMU has a graduate program, while UD does not. I personally hope that we can find bridges and doors between our two programs going forward, since I was very impressed by what I learned about UD during our visit.
A Weekend in Wisconsin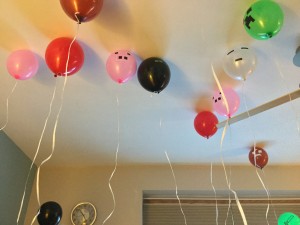 I write this as we return from a weekend in Wisconsin. We left on Friday morning in order to spend time with our family there and celebrate the birthdays of our twin nephews. It was a fun weekend. I learned that the new toy light sabers made after "The Force Awakens" was released are made from a tough plastic and they are a ton of fun to play with. My nephews and I played "Jedi vs. Sith" in the basement. At one point, I unscrewed the lightbulbs so they could not light my "Sith Lair" and downloaded a "Darth Vader Breathing" app on my phone to scare the pants off of them in the dark. It was epic.
We had a great time at the birthday party and left after lunch on Sunday. It was freaking cold in Wisconsin… it got as low as 1F while we were there. Jodi and I are both very excited to be home in North Texas, where it is in the 60sF this weekend and where we can sit out on our patio with a fire.
And, of course, the minute I got home – I started coming down with another cold. This is why I cannot have nice things.