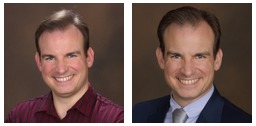 On January 12, 2012, I weighed 248lbs. That was the heaviest I'd ever been in my life, and up to this date the good news is that it is still the heaviest I've ever been in my life. Back then I had knee pain. I had high blood pressure. I was unhappy with my levels of stress, and how I dealt with stress. I had body image issues. When my doctor decided to have "the talk" with me about my health and specifically issues tied to my weight, I finally chose to really do something about it. For the first time in my life, I embarked on a painful, slow, and long process of losing weight the only way sustainable it has ever worked: by increasing exercise levels and decreasing calorie intake. To do this, I needed to lead a "data-driven life" – I needed to have good estimates of daily calorie intake and calorie output, so I could put the laws of Thermodynamics to work. In this piece, I check in on things and see how this has progressed.
I used to hate the idea of running, let alone the actual act of doing it. I toyed with running while I was a post-doctoral researcher based at the SLAC National Accelerator Laboratory. I would use lunch breaks to run some of the 3km-long accelerator surface road. I found that running helped me to deal with work stress, which at the time was just about all I was looking for. I started this short-lived habit in the wake of my own mother's heart attack in 2007; she recovered from that event, but it left an indelible impression on me. Poor diet and poor exercise are some of the most preventable conditions in our lives; yet people let these things slide. While body weight is a very personal issue, and people have the right to adopt whatever body image philosophy they like, the scientific truth is that high weight correlates strongly with poor health outcomes – type-II diabetes, heart disease, knee problems, etc. Sure, there are human outliers – the person who can eat cheeseburgers every day and never gain a pound, or the person who can weigh 300lbs and live until they are 90 and die peacefully in their sleep. But for the majority of us, eating high-calorie food comes with long-term weight consequences, and weight comes with long-term health consequences. I am one of the majority.
As I have written before [1], I embarked in 2012 on a campaign – powered by Fitbit devices, the Loseit.com calorie-counting software, and the Withings digital weight scale – to use scientific methods to attack my own weight issues. I was unhappy with my body. I felt physically unhealthy, body images issues aside. My weight and my stress made for dangerous partners. I needed to gather data and then make decisions based on that data. I decided to make three rules right away:
I would try my best to not take in more calories than I put out. If I go over my budget for the day by a little, I have to take a bunch of extra steps (a night walk, a stroll on the treadmill), until calories in do not exceed calories out. Even small cheats add up over days, months, and years.
I will not limit my diet; that is, I will NOT embark on some bullshit fad diet. I will eat a balanced portfolio of foods, but if I crave cake or fish or avocado, I will eat cake or fish or avocado. But, if I have that then I cannot have something else (e.g. yes, you can have cake, Steve, but you'll be skipping that glass of wine tonight to balance the books). See rule 1 if I go overboard.
I will exercise every day and achieve a minimum. For me, this minimum has been, for a long time, 12,000 steps. How I achieve it affects calorie loss during the day, but in general walking is almost as good as running (and requires less showering and fewer changes of clothing).
Adhering to these rules was the key. Having a partner – Jodi – who was doing this with me and already quite and active running, was certainly key to staying on target. I also began setting weight loss goals. When it comes to losing weight, you have to take it 5 lbs at a time. A 1 lb — 2 lb change in weight over the course of a few days is noise in the system. Daily measurements of weight were crucial, to spot long-term average trends up or down. With each 5 lb change, the goal is reset another 5 lbs. Weight loss should be gradual, not extreme.
The body is a complex system, but like all systems it is slave to the laws of physics. You cannot get out more energy than you put in, and one has to take in fewer calories than one exercises away in order to kick on and maintain the long, slow process of burning stored fat energy. This can take weeks and even months to accomplish. Patience is key. Patience is hard work.
But the numbers speak for themselves. Let's look at my weight.

I started data taking on Jan. 12, 2012. On that date, I was 248lbs. I started losing weight right away, but that was the "easy weight" – weight loss due to heavy sweating can easily drop off 5-10 lbs in a few weeks. The really hard-to-lose weight comes next, when you have to wait for the body to start burning the storehouse of fat. This is the period when I used to give up and slide back into my old ways. But I resolved to push hard through this period. It was tough. I was often very hungry. I was often tired and sore. Eventually, my body got used to the new normal. It took months, but my appetite subsided and my body became more used to running.  We can see how my activity levels were changing from 2012 onward: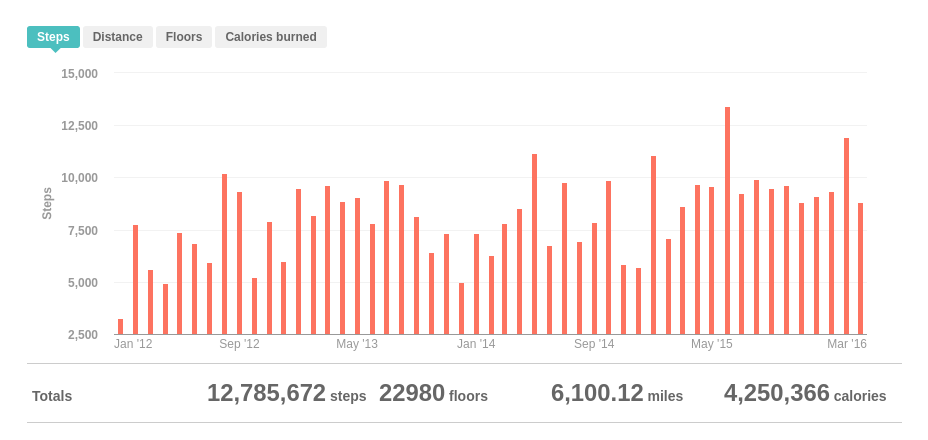 At first, you can see how hard it was for me to achieve minimum activity goals. While I am by no means perfect, the overall trend is clear: as time has gone on, I have continued to work to increase my activity levels during the week. I am currently in a long-period of having raised my activity levels to a steady level of more than 7,500 steps per week, on average during a 1 month period. Work often gets in the way. My job involves a lot of sitting in front of a computer. I try to squeeze in walks to get a cup of coffee, or social walks, or a run when I get home… but sometimes Jodi and I get home from work so late that there just is no time to exercise. I hate exercising first thing in the morning, so if the day gets away from me I often sacrifice afternoon exercise for relaxation. This has consequences, of course, for meeting my goals but it is also important for me that leisure be a healthy part of my life or all of this will just seem like work, work, work.
It's then interesting to take a combined look at the above information and see how my calories burned has changed with time: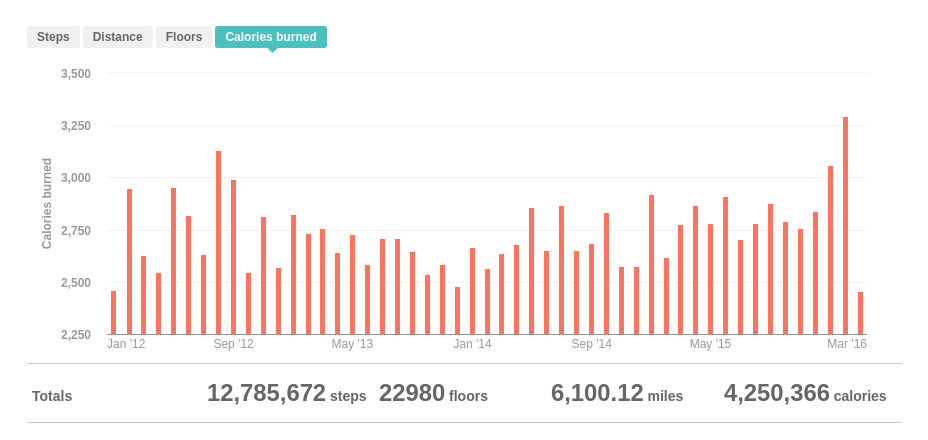 Here, I am presently (and very intentionally) in a maximum, though we can also see that another fervent time for calorie burning was later in 2012, not long after embarking on my lifestyle changes.
There were some expected and unexpected things that happened along the way. I went from wearing XL-sized shirts and 42-inch waist pants to wearing M-sized shirts and 34-inch waist pants. That's not a huge surprise. What came as a bit of a surprise was needing to buy pants with longer inseams. My old inseam length, 29, left my ankles showing more and more as I continued to lose weight. Jodi insisted I cut that out and admit I needed to fix that when I replaced my clothes the next time. I lost about 1 shoe size, going from an 11-11.5 (depending on the show and the cut) to 10-10.5. Having to replace clothes got expensive; on the flip side, I got to donate a lot of clothes to people who could use them more than me. So that was a positive, too.
I reached my big, personal milestone – achieving a weight of about 200lbs – in 2013. Since then, my goal has largely been to coast and keep my weight constant. It had taken a lot of effort to kill off those first 48lbs, and I wanted to achieve a steady maintenance period for my weight until I felt ready to take the weight down into the 190s and 180s. My next big milestone is to reach about 175lbs, a weight I have not been since… well, since sometime in high school or even earlier.
This past Christmas, I was so sick with colds and flu and so inactive that my weight began to creep upward, approaching 210lbs again. I decided this was my cue to start toward that next goal. Right now, I am working very hard to get to 195lbs (remember, 5lbs at a time!). This is soon to be within my grasp – I anticipate that by the end of May I will have hit a steady state where my weight has leveled at 195lbs. I will then proceed to 190lbs, etc. This is a long, slow process. It might take years to achieve this next goal. But I have decided that this is the time to go for it.
Part of the reason for this has to do with my running. I have NEVER been a better runner than I am now, and I want to continue to refine and improve my running. I can run 6.5 miles without too much effort. Bringing two small bottles of water with me on a belt is sufficient to make it this distance in 70–80 degree Texas weather. But once I hit 6.5 miles, I am approaching my current "wall" – the limits of my physical endurance without intake of electrolytes and sugars. I'd like to get up to 10 miles in one run, but I know this will take time in order to avoid injury.
In the interim period, I am trying to improve the pace of my mile. When I go for distance, I keep my miles at the 10-11 minute pace. But today, I decided to go for broke on my third mile in a 3.11 (5K) mile run. I really cranked up my pace. I felt good. As a result of this push, I achieved a pace of 08:32 for my THIRD mile. I've never done this before. In high school, even while ramping up for the Presidential Physical Fitness trials in gym class, I NEVER ran a sub-10-minute mile. Now I apparently have the will and ability to run an 08:32 mile after having already run TWO 10-minute miles. This is not the person I remember being. I think I like this person better.
The most important things that have happened as a result of all of this have been physical and mental health. My knees stopped hurting sometime in 2012. I don't even remember when it stopped. I just know that one day I realized I didn't have to worry about chronic knee pain any more, because my weight loss had been sufficient to bring an end to it. My blood pressure is under control even with the babiest of medication doses. I haven't completely stopped taking blood pressure medication, because my doctor wants to understand the long-term trend (I totally respect that), but I have not had a blood-pressure related physical issue since 2012. My body image issues are reduced – no longer do I feel like I am carrying two spare tires around on my belly. I even can be coaxed into taking off my shirt at a a public pool and even going for a swim. But I have a long way to go there, and what I can say is that I no longer frown at the person in the mirror. He's OK. Well… he'll be OK. He's certainly never been better.
[1] http://steve.cooleysekula.net/blog/2012/07/22/healthy-living-through-science/