This last week has been eventful! It began with an early morning return to Dallas from Connecticut, fighting the beginning of an annoying cold. After a couple of days at home, I was on a plane again, this time to London to spend 13 days working with colleagues at Queen Mary University London (QMUL) on software development for the ATLAS H->bb analysis. Easter weekend is a 4-day affair in Europe, so after a couple of days of jet lag and a bad cold I had a little welcome down time… which turned into serious down time when I lost my voice. I closed the week with a nice stroll around London on a Sherlock Holmes-themed Easter Sunday. Now, rested, I am looking forward to the next week of work and engagement in London.
Back in Dallas
I returned to Dallas last Sunday, suffering the early stages of a respiratory infection. The symptoms had begun late on the previous Friday, an inevitable consequence of taking a few restful days away from the otherwise nonstop work of this semester. This almost always happens to me: I take a break, I get sick. I've actually begun to embrace this as a positive sign. I must be relaxing if I come down with something!
Unfortunately, this made the only two days I was going to get to spend with Jodi kind of miserable. Instead of having a nice time taking walks to get meals together, instead I found myself relatively sedentary as I tried to take it easy ahead of my flight to London on Tuesday. Monday was rather active, as there was the morning SMU ATLAS group meeting and an afternoon Physics Department Speakers Series event where Prof. Alex Lippert, from SMU Chemistry, presented his awesome work on the chemistry of substances that emit light when struck by two different specific wavelengths. This forms the basis of a 3-D visualization system, since one can then project or scan two colored light beams and, at the intersection, generate shapes that are frozen in 3 dimensions or can move in those some or all of those dimensions as one sweeps the light.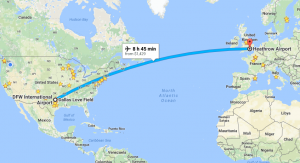 I was pretty congested by the time I got on the plane to London on Tuesday. My seat was not particularly conducive to sleeping, a feat that is already challenging for me on international flights. I managed just a few hours of broken slumber on the ride to London. There was even some drama on the flight. As I waited in line for the bathroom to brush my teeth before trying to get some sleep, the woman next to me in line fainted. I managed to slow her fall but not stop it completely (the limp human body, for any person, is a burden you don't anticipate when suddenly you are called upon to catch it), and then got a flight attendant involved in what appeared to be a medical emergency. A couple of minutes later, she was back on her feet and feeling much better. I saw her later in the flight, and she seemed to be okay. It was a sudden scare that, thankfully, turned out to be nothing serious in the end.
In London
I arrived in London an hour earlier than scheduled. That meant our plane touched down at a little after 6am instead of 7am. It was going to be a long, jet-lag-filled day.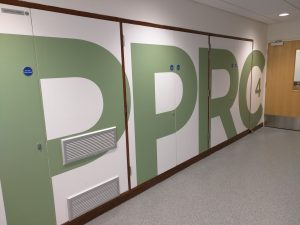 I have never actually been in London proper before. I've used Heathrow as a way station dozens of times, and I've gone to Oxford by bus from Heathrow, but I have never been in the actual city. This trip was a welcome treat. I learned how to get an "oyster card" and use it to get on and off the London Underground (subway system), and made it to my hotel to drop off my bags not much after 8am. I got some breakfast at the hotel and then made my way to QMUL, about 40 minutes away by foot and subway from the hotel. I arrived just shortly before my colleague with whom I am working while here in London. We spent the day talking about the software we wanted to design and the general layout of things. It was hard to focus, but I put a bunch of notes down in my logbook in the afternoon.
The next day my colleague was traveling with his family ahead of the Easter holiday (a 4-day weekend here in the UK), so I went into QMUL and worked on software and interacted with other colleagues at QMUL, including a colleague of mine on ATLAS whom I first worked with back when I was a student and then a post-doc on the BaBar Experiment. He took me on a walking tour of parts of London that evening before we grabbed a pint and had a nice dinner.
The virus reasserts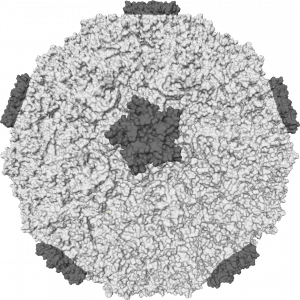 It probably wasn't so much the virus as it was my body's defensive response to it, but I awoke the next morning, Good Friday, unable to speak. My voice was shot. I could kind of croak out words, but it hurt. I spent the day resting, working on code, and keeping silent to let my larynx rest. The next day, Saturday, things were only marginally better. I canceled lunch plans because I was useless at talking and afraid of doing more harm than good if I did start talking through it. However, all that rest paid off on Sunday when I awoke mostly able to speak. With pleasant weather for Easter Sunday, I set out on my own little tour of London – themed about one of my little fanboy obsessions: Sherlock Holmes.
Baker Streets Real and Imagined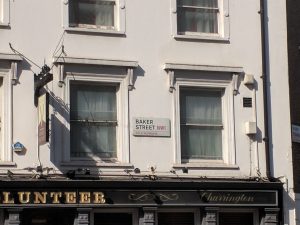 Grabbing a train on the Jubilee line at Waterloo station, a few minute walk north of my hotel, I took the 10 minute ride north to the Baker Street station. Baker Street is the real place in which Sir Arthur Conan Doyle imagined, back in the late 1800s, his fictional character Sherlock Holmes beginning all of his amazing adventures. Along with his trusty and often put-upon partner, Dr. John Watson, Sherlock Holmes was said to reside at "221B Baker Street" – and since this character has so captured the imaginations of generations of readers, radio drama listeners, and TV and movie viewers, this is one of the most famous addresses in the history of western fiction.
Now the funny thing, of course, is that this address did not exist in the days of Doyle's writing. Baker Street did not extend that far north at the time he wrote his stories, though later the street was extended and included the 200-block of numbers. There is thus a whole drama about the real 221 itself that you can go read on Wikipedia, but the bottom line is this: now, unlike in the days of Doyle, 221 Baker Street is a real address in London.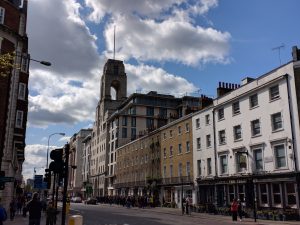 I exited the Baker Street station to the sounds of a violin playing street performer down in the station tunnels. Turning right, I found myself immediately at the correct block and walked to its north end. People queued in a long line to get into the Sherlock Holmes museum, but I wasn't so interested in this; after all, none of this was actually Baker Street back in the days of Doyle. It was pure fiction, and so it seems fitting that the fights over 221B and the existence of this museum are also a kind of fiction. Instead, I took a photograph of the street looking back south and just enjoyed the noise and smells of London from this spot. Families were out for Easter Sunday, heading to the nearby Regent's Park (which I then went and walked). Street traffic hummed and honked and zoomed by. It was just nice to stand there, in modern London, and wonder what the city must have smelled and sounded like in the days of Holmes and Watson, their world a reflection of Doyle's own experiences and imaginings of the London of his day.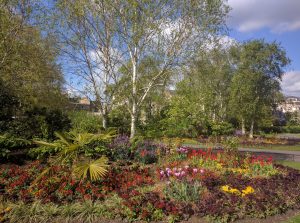 I took a pleasant stroll through Regent's Park, home to a zoo and a private not-for-profit college. It was absolutely beautiful. With so many people out on Easter Sunday, it was a pleasant way to stretch my legs surrounded by a quiet refuge in the middle of a bustling city.  After a peaceful time in the park, I headed back to the Baker Street station and grabbed a train east to my last stop on my outing: the Euston Square Station, near University College London.
This was also part of my Sherlock Holmes-themed outing, but not part of the "Sir Arthur Conan Doyle" route; rather, this stop brought me to a location key to the recent British TV program, "Sherlock," a re-imagining of Sherlock Holmes and John Watson in the modern era of mobile phones, laptop computers, and British government and culture. A short walk from the Euston Square Station, on Gower Street, is the domicile at 187 Gower Street. This is the shooting location for the facade of what is called 221B Baker Street in "Sherlock."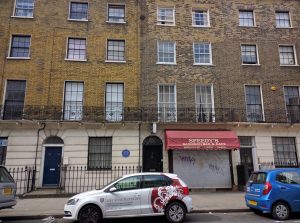 Sure, it's not actually Baker Street, but this is the place the show's creators and director decided to use as the site where Holmes and Watson enter or exit their imagined flat. Everything is basically as you see it in the show: there is "Speedy's Cafe" (shuttered today because of Easter Sunday, so far as I could tell) and the door to the left of it, which is the putative entrance to 221 Baker Street (decorated for shooting but not otherwise, it seems). This street was, compared to Baker Street, quiet and calm. Two small groups of people were there doing the same as me – shooting a quick picture in front of the location.
You can compare the photo I took to a photo of an active shoot of the show available from its Wikipedia article [1].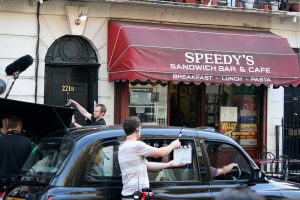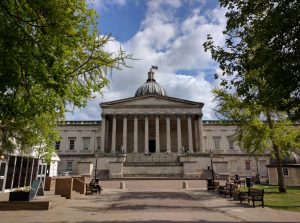 After having my bit of fun in London, I walked back to my hotel. I wanted to get some exercise and see more of the city. I paused along the way to pop in and have a look at a public area of UCL, which was quite a beautiful courtyard with impressive building facades surrounding the inner wall.  I have colleagues that work at UCL on Higgs and bottom quark physics, in the same Higgs research subgroup as me (one of them co-leads the subgroup), so it was kinda cool to "drop in" and check out their university. What I could see was pretty, and presumably was intended to be so since it's open to the public.
The walk back to the hotel took me eventually across Waterloo Bridge, where I shot the picture at the top of this blog post. I've been relaxing at the hotel, doing a little bit more coding, and doing some writing. I am looking forward to the next few days. Tomorrow is still a holiday here in the UK, so I will take some more rest and do some more coding. Tomorrow night, I am going to St. Martin in the Fields for a performance of Handel's "Messiah," where I will also meet (for the first time, and in public), my editor and publisher, Otto! Otto is coordinating the book that I am now a co-author on with Frank Blitzer (retired NASA engineer who was involved in projects like APOLLO) and Jim Gates (distinguished theoretical physicist from the University of Maryland). Otto and I have never met in person – it will be fun to finally do so! I intend to have similar meetings with my co-authors at some point; Otto and I just happened to be in London at precisely the same time, and so this meeting evolved rather organically.
Tuesday will be a good solid work day at QMUL, and then Tuesday night I will have dinner with an old friend from my high school who lives in the UK and is in London for work this week. This will be the first time we've seen each other in 23 years!
And then the work continues at QMUL. It's hard to be away from home, but it's good I can be so distracted with a beautiful city and lots of work.