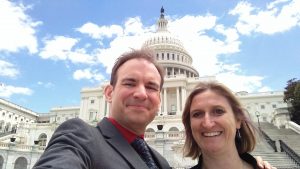 This week Jodi and I left for Washington D.C. on Monday for an event at the Canadian Embassy on Tuesday night. She had been invited to attend an evening celebrating science in Canada, especially Nobel Prize-winner Art McDonald and projects at SNOLAB, that nation's premiere underground science facility. In addition, Jodi and I hit Capitol Hill on Wednesday to meet with staffers from Congressman Sam Johnson and Congressman Pete Sessions' offices. We returned to Dallas early Thursday morning, in time to attend a very special event at SMU later that night: a dinner with the Board of Trustees at SMU where faculty receive the University's top research and teaching distinctions. This was yet another whirlwind week in a semester of whirlwind weeks… but at least, this time, I could spend it with Jodi.
Acts of Congress
The week began with some of the most hopeful news I have heard all year: Democrats and Republicans in Congress came together to agree on a bi-partisan FY17 funding bill to continue providing support for the federal government through the rest of the fiscal year (ending on September 30). Had this not succeeded, the government would have faced shutdown this past week. This seems to have been avoided… and thank goodness, as it was not clear to me that the nation's basic science capabilities could take another government shutdown. That shutdown shattered the dreams of many of my colleagues a few years ago to operate long-planned experiments in places like Antarctica, where polar operations happen only while federal support exists.
The bill was by no means perfect, but it was bi-partisan and that is already asking a lot of the current American political climate. In fact, this year has been quite a lesson in American civics. It was been a reminder that there are three co-equal branches of government who act as checks on one another to keep any one branch from exerting absolute authority. This may be frustrating to many Americans, but over the long run it has worked to avoid the kinds of overreaches that have in other countries led to atrocities, at home and abroad, committed by a ruthless autocrat in the name of democracy. I would rather suffer thoughtful paralysis than thoughtless brutality.
It was heartening when federal courts acted to block parts or all of the president's executive order barring refugees and travel from specific countries. Such acts, while targeted at specific populations, have a terrible chilling effect. Our nation has long been a city on a hill regarding science and innovation, a place where many people from many nations are drawn to learn from us and then either share science with their home countries or remain here and make our nation better, smarter, and more diverse. Blocking people from a few countries sends a larger message that foreigners are not welcome, even if they are not specifically blocked. After all, if you can block people without justification from six or seven countries, why not 10, or 20, or all of them?
In fact, at many Universities, my own included, we saw applications from qualified non-US candidates drop by startling amounts – in our case, by more than half of what they usually are! The data suggests that this was a very common experience this year, and we feared being unable to recruit a healthy class of graduate students as a result. It worked out quite well for us in the end, but we found ourselves asking questions like, "What did we do wrong in recruiting this year?" and "What more could we have done to attract applicants from other countries?". In fact, the problem was one of American leadership – fear of foreigners and bad policies at the very top of US government led to a sense that the long-cherished welcome mat of America was gone from the door… and applications simply stopped.
And, of course, it has been heartening to watch the fourth estate – journalists – work their investigative magic. Jodi and I actively subscribe to two newspapers and through sources like Flipboard one has access to a diversity of sources of news from legitimate journalistic organizations that cross the partisan spectrum. Watching the press continue to hold the other three estates to account has been a huge relief.
So now, to see the Legislative Branch act to keep the government funded in a bi-partisan way, without really implementing any of the priorities or top wishes of the President (e.g. border wall funding), was heartening. It suggested that Congress was acting more for the good of the nation than the good of party or, God forbid, the good of the Executive. Agencies like National Science Foundation and the US Department of Energy's Office of Science fared well in this process. There were losers. NOAA, the nation's climate watchdog, was cut.
By Friday, the FY17 budget omnibus bill had been passed along to the President for his signature. Congress managed to include a nearly 5% increase for High-Energy Physics over FY16's enacted budget – my field was very fortunate, in a potentially difficult year, to see increases suggestive of support for the plans of the field in the coming years. It was a hopeful sign . . . but every year is a new year in U.S. federal funding.
In contrast to this bi-partisan rainbow, of course, on Tuesday the President showed that he's more interested in achieving totality of party rule rather than government in the interest of the people by calling for a government shutdown in September (he used quotes around the word "shutdown," presumably to cover his ass later if anyone took him to task on calling for crippling the federal government):
The reason for the plan negotiated between the Republicans and Democrats is that we need 60 votes in the Senate which are not there! We….

— Donald J. Trump (@realDonaldTrump) May 2, 2017
either elect more Republican Senators in 2018 or change the rules now to 51%. Our country needs a good "shutdown" in September to fix mess!

— Donald J. Trump (@realDonaldTrump) May 2, 2017
It's sad that a U.S. president is choosing to govern by kicking the legs out from underneath government rather than the more serious task of having those same legs walk forward a few steps. Somebody needs to educate this guy. If only he had a science adviser… oh, right.
The Washington Post reported well on the sentiment and implications of these unprecedented – and, to be frank, unpresidented – tweets.
Laid to Rest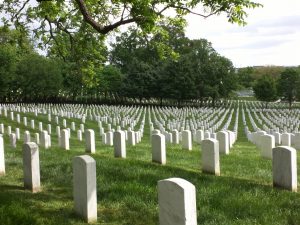 Jodi and I visited Arlington Cemetery on Tuesday. This was my first visit. It has long been in my mind to walk among the tombstones of those who sacrificed their own blood, and often their whole lives, for the good of the nation and, in many cases, the world. It's nearly impossible to visit every section of this vast cemetery in one day, and Jodi and I are sporting enough running-related injuries right now to somewhat limit our mobility. Nonetheless, we arrived at the Blue Line Metro station at Arlington Cemetery and spent the morning walking a path through the memorial.
We selected a few key places we wanted to visit. The first was the tomb of former president John F. Kennedy. Then we walked to the tomb of the unknown soldier, where we arrived just in time for the changing of the guard. Finally, we visited the site of the memorials to the crews of the space shuttles Columbia and Challenger.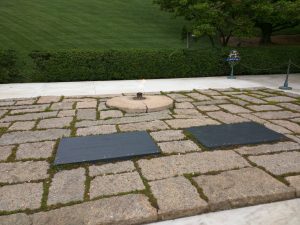 Standing at the tomb of John F. Kennedy, Jackie Kennedy Onassis, and two children of theirs who both died at birth, I became overwhelmed by a deeply sobering feeling. As with all Presidents, it's easy to paint Kennedy in partisan tones; certainly, each of the two major parties in the U.S. had plenty to like or dislike while Kennedy was president. But his death at the hands of a sniper in Dallas (I would hope reasonable people would agree) was a senseless act that ended, far too early, an incredible and complicated life. It shattered the lives of his family and, really, of America. Whatever innocence remained from the 1950s was slain that day in Dallas, one of many public acts in the 1960s that stripped the United States of its societal naivete. Standing there by the eternal flame that keeps watch near Kennedy's final resting place, surrounded by many other men and women whose death might have served some intended purpose for the Republic, here was a life stolen without sense, without a purpose for the sacrifice. Such a terrible death is a risk all presidents accept when they take that oath, but here in Arlington is an example of the depth of that risk… and the emptiness that accompanies a death unexpected.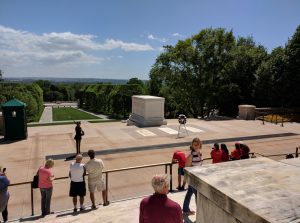 The Tomb of the Unknown Soldier was equally sobering, in what is ostensibly a sea of sobering memorials. Here lies interred multiple soldiers whose identity is unknown, who stand for all such unknown soldiers, but each of whom was American that gave their life in service of the Republic. A military guard keeps watch over the tomb, saluting the unknown soldier in the process of changing the guard. Here, for me, was a reminder that every person can leave for war a known, surrounded by their comrades in arms and loved by family and friends who tearfully see them off before they fulfill their duty to the Republic… and yet, in war the bullets and the bombs don't care who you are, they do not know your story or worry about who loves you. Bullets and bombs blindly ruin lives. And, sometimes, their butchery leaves no evidence of whose life they took. We must remember all of those who returned to us, known to us and having sacrificed for the good of the nation; we must also remember all those who return unknown, and all the families and friends who may never know if the body of their loved one has been returned to the Republic.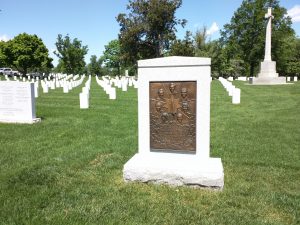 Finally, we visited the sites of the memorials marking the lives lost in two recent space flight disasters, the explosion of the Space Shuttle Challenger on liftoff and the disintegration of the Space Shuttle Columbia upon re-entry to the earth's atmosphere. For me, these were really the most painful places to visit. These lives were those of astronauts – teachers and scientists and engineers and pilots – who died in service to this country carrying our the most basic mission of humanity: exploration. These were not men and women who went off to kill other men and women in service to the defense of the Republic; these were men and women who willingly put their lives at risk simply to increase human knowledge for all humankind. It reminds us that even in a mission of learning, there is terrible risk. I was particularly moved in seeing the cast of the face of astronaut and physicist Ronald Erwin McNair. The McNair Scholarship is named in honor of this lost scientist and serves to encourage students from minority groups to pursue careers (PhDs) in science, technology, engineering, and mathematics.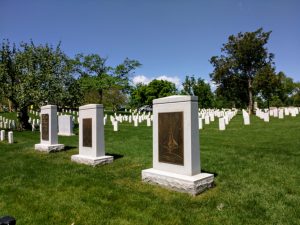 Many lives have been given in service to the Republic. Many of those are entombed in Arlington National Cemetery. Many of the men and women in this vast cemetery served in the armed forces of the United States, dying in combat or giving their blood in service to the country only to die later. Others served the nation in other ways, including as explorers who dared to push the boundaries of human knowledge and paid the ultimate price in pursuit of knowing. I am glad that we visited Arlington, even if it was very painful to be there surrounded by all those remembered lives. But it is good to remember them, and to walk among them, even in death, so that they know that they are gone but will never be forgotten.
Partners in Science: The US and Canada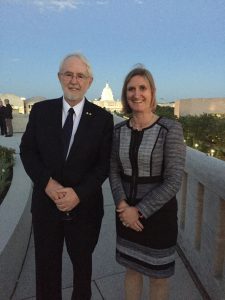 I have always admired the way that particle physics is funded at the national level in Canada. They always seem to have a clear focus in what they choose to pursue. There is much to be said for trying everything, and much to be said for trying to go deep on a few things. The US process often feels more scatter-shot, while the Canadian process feels more lensed. So where there are places where the US and Canada can partner, you can imagine that a lot of good science can get done.
Canada is now the home of one of the major dark matter experiments in the field over the next decade: the SuperCDMS-SNOLAB experiment. Sited in the SNOLAB facility in an operating mine in Sudbury, Canada, this experiment will focus on the search for dark matter in a largely under-served region: candidates with mass less than 10-times the proton mass, all the way down to dark matter with masses around the proton mass or slightly smaller than that. SuperCDMS SNOLAB is one of a handful of flagship experiments heading into the second generation of dark matter searches: LUX-ZEPELIN (LZ) and XENON 1T and PANDA-X are the big high-mass searches, covering the space above 10 proton masses and competing among themselves for leadership in the field; SuperCDMS SNOLAB will go for the 1-10 proton masses region, and experiments like ADMX will go for the ultra-low-mass dark matter candidates, like Axions.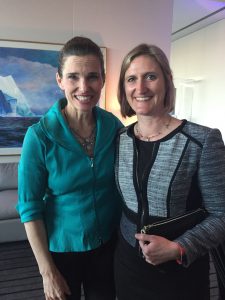 The Canadian Embassy in Washington DC hosted an event to celebrate the US-Canada basic science partnership and honor Nobel Prize-winning physicist Arthur McDonald. Jodi was invited to this unique event and managed to meet the Canadian Minister of Science, Kirsty Duncan, who is known for her adventurous study of the 1918 Spanish flu pandemic to better understand its causes and help prevent future such pandemics. Needless to say, this was quite a fun evening for Jodi and while I didn't get to participate I at least get to brag about how Jodi got invited to this and got to meet the Minister of Science for all of Canada. That's pretty awesome. As scientists, we do what we do for the chance of knowing something new about the universe. But it's crucial to spend time interacting with those who support the national and international science communities by setting policies for nations, advocating for spending on science research. These men and women serve the people of their nation and try to provide the best possible advice to policy makers when they face issues where science itself can yield insights. So, every now and then, it's wise for scientists to spend time outside the lab, talking to those stakeholders in the wider science support network. We must let them know that their hard work is appreciated.
It's easy to demonize a straw man in Washington; really, it takes no energy or effort at all. It's so easy to blame other people for your problems. A lot of Americans sit at home and complain about government but haven't the wherewithal to call their Members of Congress and ask for something, or criticize something. It's easy to trumpet displeasure on social media, but it takes the courage of a citizen to pick up the phone or write a letter and actually engage with your Members of Congress. But it's those hard things that make a real difference: to call them, write them, or even meet with them face-to-face and talk about what you do, why it matters, why they should support it, and forge partnerships to make such support possible while remaining aligned with the values of those stakeholders.
So, Wednesday, we put our money where our mouths are.
Two Scientists on Capitol Hill
Jodi and I are grateful to the American Physical Society, who (as a standard service to their members) reached out to two of our Members of Congress and arranged meetings for us. We had a Wednesday 10:30am appointment with a staffer from Congressman Sam Johnson's office (Johnson is our home district representative) and an 11:30 with a staffer from Congressman Pete Sessions' office (Sessions is the representative of SMU's home district).
We had a very good visit with Congressman Johnson's office, meeting in the hallway with a staffer (House offices are notoriously packed to the gills with people, leaving no room for a meeting). He gave us about 20 minutes of his time, which was quite generous. We talked about health care, health care policy, the importance of science to healthcare, and had a frank conversation about the realities and complexities of these issues. We also discussed the difficult road ahead that Congress will eventually have to walk to reform the budget of the federal government and the difficult choices Members of Congress will have to make to help the U.S. balance needs with debts in the coming decades.
Our next visit, with the office of Congressman Pete Sessions, was even more incredibly memorable. We arrived a little early, and as we waited for our staff contact to conclude a meeting we sat in the lobby of the Congressman's small office. A few moments later, out came Congressman Sessions. At first, I didn't recognize him; he was without jacket and tie when he emerged in the lobby. He chatted us up, found out we were SMU faculty, introduced us to other SMU alums in the office, and then did a round of photos with us before stepping out to meet with another group of constituents. It was an incredibly surreal experience; I've been to Capitol Hill a number of times but met actual Members of Congress only on a handful of occasions. Congressman Sessions was quite generous with his time and was extremely welcoming and sociable, and it was a breath of fresh air to feel so at home in a Congressional office.
The staffer with whom we had our formal meeting was a former student of both Jodi and me (Jodi for Physics I, me for Physics II). We caught up on SMU, reminisced a little, emphasized our hope that Congressman Sessions would advocate for increased support for basic science, and overall had a wonderful visit. We walked out of that meeting on something approaching cloud 9. We almost forgot how hungry we were before we went into the meeting! That quickly caught up with us, and we grabbed lunch in the Rayburn House Office Building cafeteria before strolling down the Mall.
A Stroll Along the Mall
It was such a lovely day, and we had so much nervous energy to work off, we walked the entire length of the Mall and left for our hotel by the Arlington Cemetary Metro Station, west across the Potomac!
Along the way we had gorgeous views of all the sites of this part of Washington D.C., including the Capitol Building, the Washington Monument, the White House, the constellation of museums, including the Smithsonian Institute, the Lincoln Memorial, and the extremely sobering Vietnam War Memorial (where we sought out the name of a pen pal and friend of my mother-in-law; he died very shortly before returning home from the war). Here are some of our photos from our stroll down the Mall.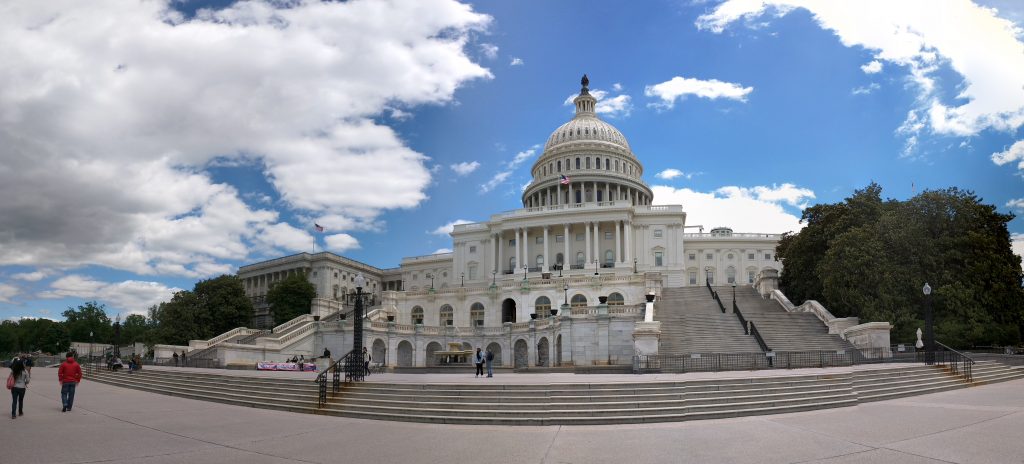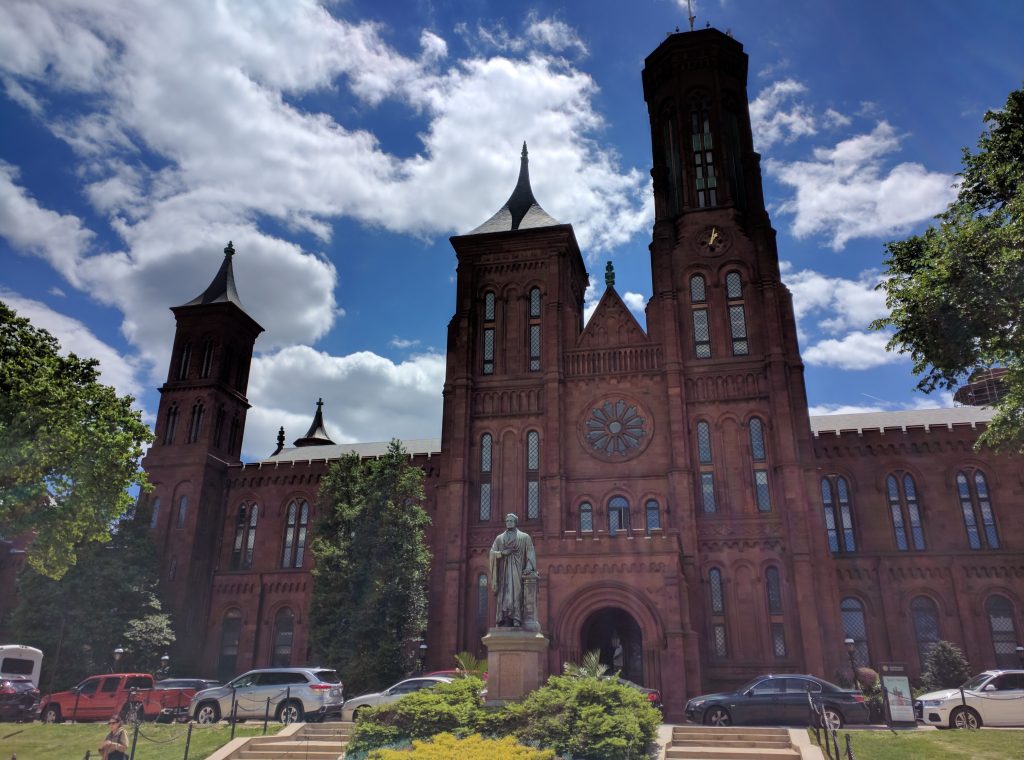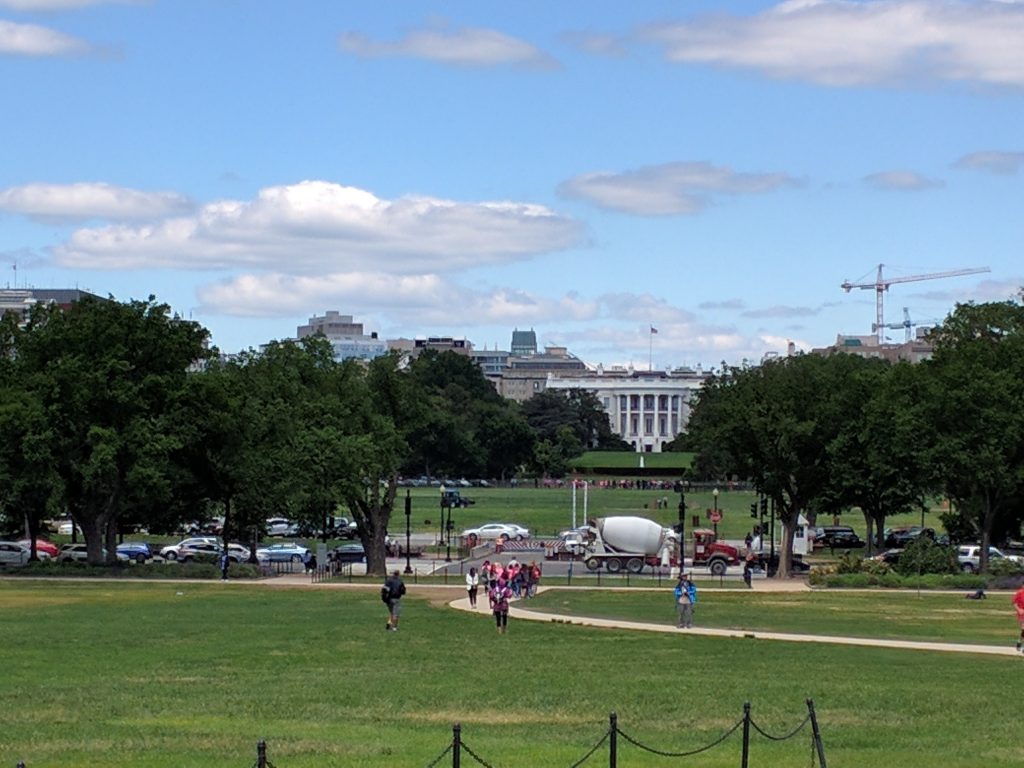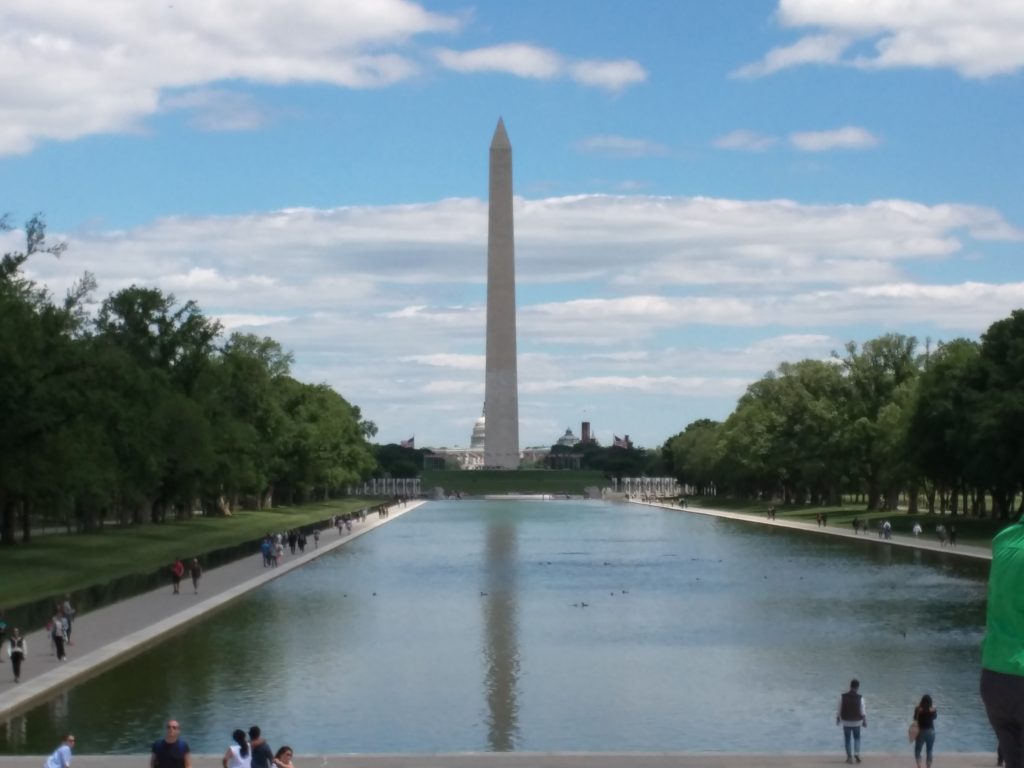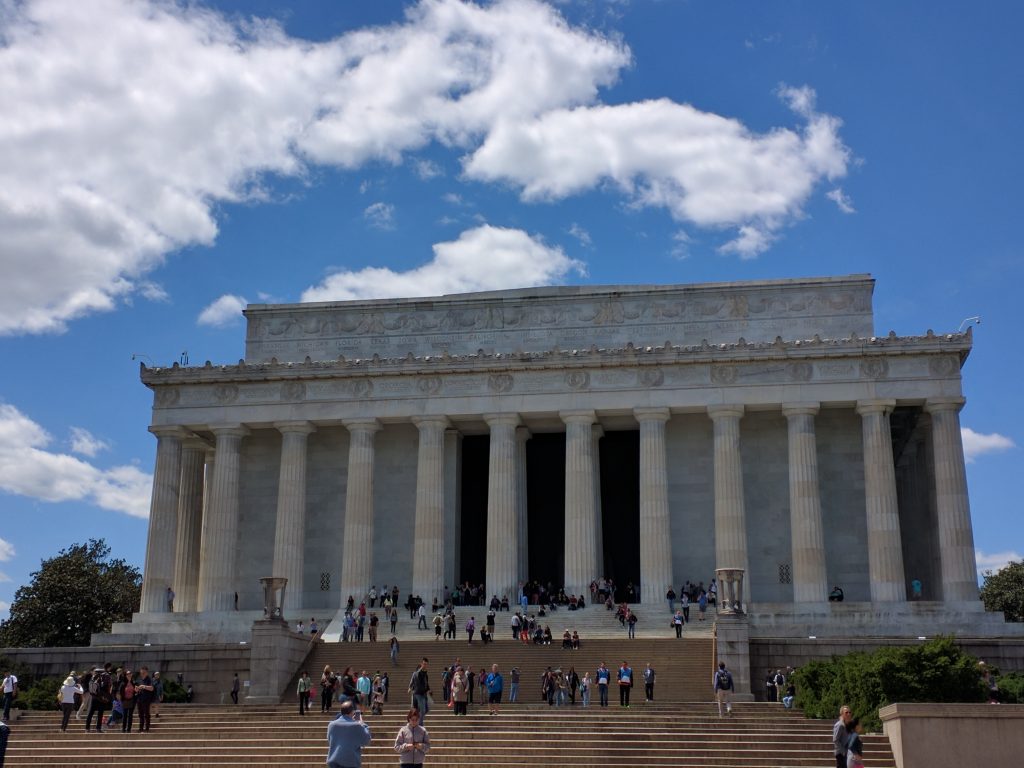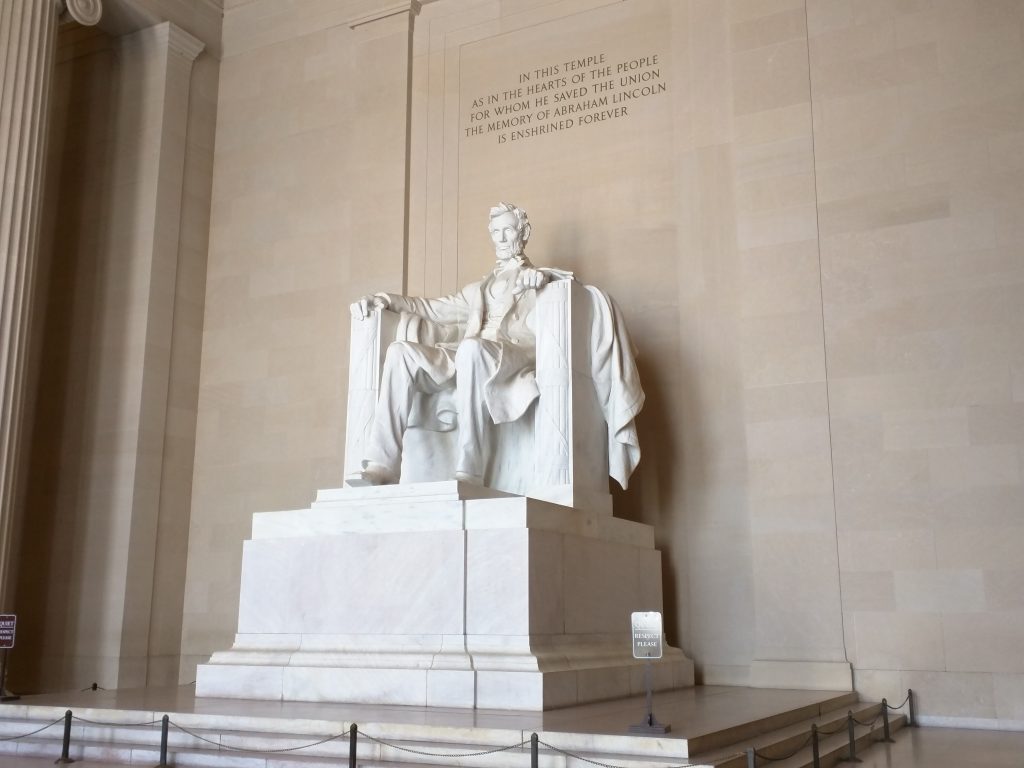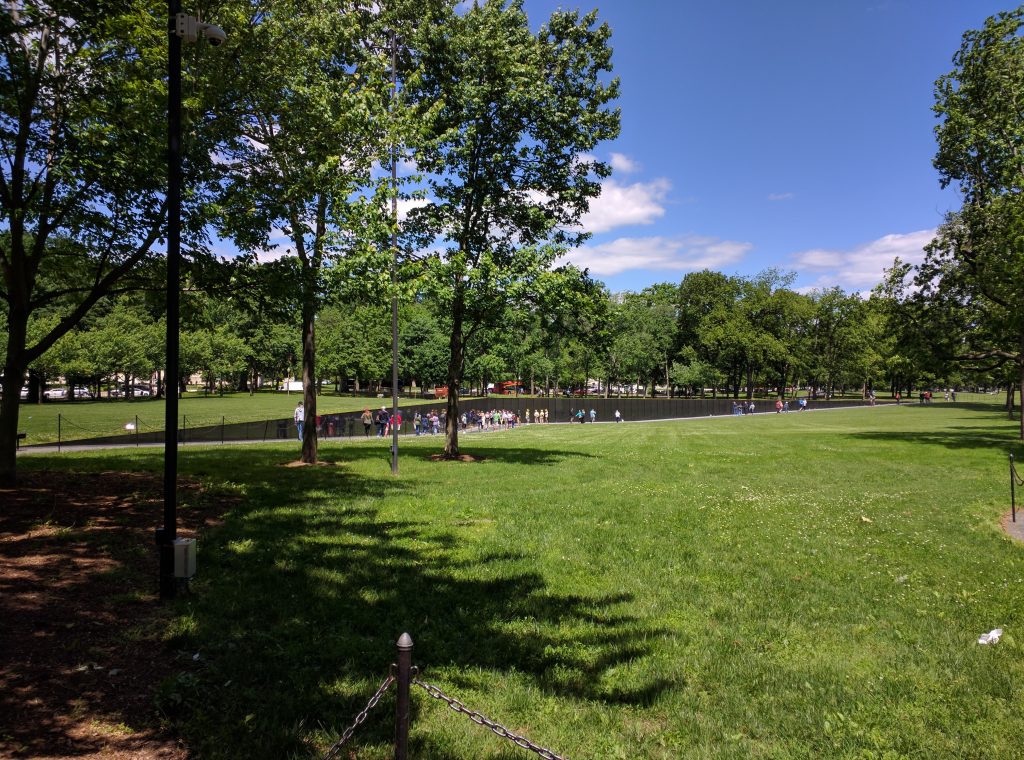 In Case You Were Confused, Mr. President
While Jodi and I were in Washington, our esteemed President gave one of his occasional and perplexing revisionist history lessons. This one was about the Civil War and expressed what appeared to be doubt about what caused this terrible event. He said in an interview with the Washington Examiner [1]:
"People don't realize, you know, the Civil War, if you think about it, why?  People don't ask that question, but why was there the Civil War? Why could that one not have been worked out?"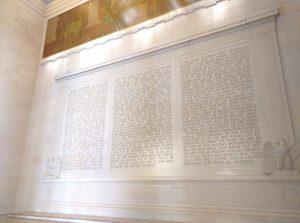 Not sure why he is so late to the table on this – every school child in America who's had even a third-rate history course knows the cause of the Civil War, and as for who asks the question of why it happened… well that would be every half-decent historian since the days of that terrible war. But the good news is that the President need not travel far from the confines of the White House to learn the answer – a quick limo ride west down the Mall to the Lincoln Memorial and a short stroll in and to the right leads any person to the second inaugural address of President Abraham Lincoln, inscribed in the stone walls of the memorial for all to see. Lincoln wrote quite plainly,
"One-eighth of the whole population were colored slaves, not distributed generally over the Union, but localized in the southern part of it. These slaves constituted a peculiar and powerful interest. All knew that this interest was somehow the cause of the war." [Abraham Lincoln, the second inaugural address]
So there you have it . . . from one President to another. What was the cause of the Civil War? It's slavery, stupid.
Washington D.C. is living history. Those who inhabit it would be wise to heed its lessons.
Yeah, so… that happened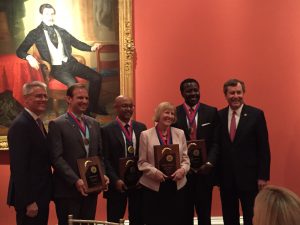 We returned to Dallas early on Thursday morning, just in time for a surreal event (for a physicist, I guess) on Thursday night. This was the annual SMU Board of Trustees dinner at which faculty who have won top University awards are honored. I was one of those faculty. I received the Altshuler Distinguished Teaching Professor Award, the University's highest teaching honor for tenured faculty. As a professor of physics, I make no distinction between teaching and research. My research enters my classroom so that students have access to the latest breakthroughs and the frontiers of the field, and my teaching practices enter the research environment to encourage students into focused self-study and the application of new ideas. I am humbled to have been selected for this award, and as you can imagine this was a strange night for someone who doesn't like to think about awards.
Since this is a SMU-centric award, I provide the description from the award's website:
[The award, given] annually recognizes four SMU faculty members for their notable commitment to and achievements in fostering student learning. These are teachers whose concerns for higher education go beyond classroom boundaries and often the boundaries of their own disciplines. In student mentoring, in discussions about teaching, and in continuous reflection about their own successes and ways to improve, they represent the highest achievement in reaching the goals of higher education.
Yeah… so… very humbled. No words. Just… humbled.
The most fun part of this evening, for a faculty member, is meeting in a more intimate setting with the trustees of the University. We don't get to interact with them that often, so it was incredible to be able to listen to their ideas and learn what they are enthusiastic about, and how that intersects with the scientific programs in which I am immersed.
A more normal week…?
The next seven days promise to be a bit more normal. Gardening and yard work needs to be done at home. I will return to the routine of ATLAS and SMU meetings. My leave from teaching is winding down and summer fast approaching. We have graduation in a couple of weeks. Then things get crazy again. So, for now, I will enjoy good weather and relative peace and quiet.
[1] https://www.washingtonpost.com/national/trump-makes-puzzling-claim-about-andrew-jackson-civil-war/2017/05/01/e106b9fa-2e79-11e7-a335-fa0ae1940305_story.html